Any kind of celebration will never be simple when Filipino dishes are served at the table. No matter what the occasion, whether it is a birthday, a wedding anniversary, or even just a celebration for a small achievement at work, school, and in life, Filipinos love to cook food. Well, it is because we, Filipinos, love to eat. As a result, we discover different kinds of delicious dishes that we can proudly serve not only in all Filipino homes but also to the foreigners visiting our country, the Philippines. It is true that no one can resist the food served at the table of a Filipino family. 
Have you ever heard the saying, "A way to a man's heart is through his stomach"? It only means that if you love someone and you want someone to love you back, just cook and serve them delicious food, and they will surely love you forever. On the 19th day of June this year, the world will be celebrating a worldwide event honoring our great fathers who never hesitate to sacrifice and give efforts for their families. It is the time to make them feel loved and appreciated.
The best way to celebrate this special day is to cook the best Filipino dishes and eat with the whole family at one table. There are lots of dishes that our country has, we just have to choose from them. Here we are to give you some examples.
Best Filipino Dishes
Due to the country's rich culture and history, the dishes here in the Philippines are something we should boast about.
Adobo
This dish is so famous on all Filipino tables. It will never be absent from every outing or family picnic since it is a dish cooked in vinegar and soy sauce, which means it doesn't get spoiled easily. It is actually one of the traditional Filipino dishes that people are looking for most of the time. Adobo is derived from the Spanish term adobar, which means "to marinate." Although it isn't yet announced by law as a national dish, people are considering it as one. Since the Philippines is a country composed of more than seven thousand islands, there are different versions of Filipino dishes because of the diversity of culture, customs, and traditions.
There are different versions of Adobo in our beloved country. One of them is Pork and Chicken Adobo which are slices of pork and chicken that are combined in one dish. This is the food that Titos and Titas usually bring in every family outing or swimming. There is also Pork Adobo with Potato, Pork Adobo with Egg, Pork Adobo with Tofu, Adobong Baboy na Gata, and Spicy Pork Adobo.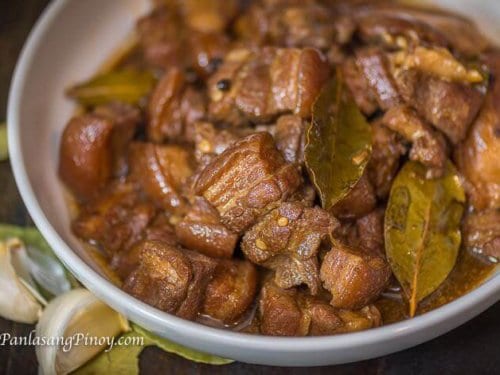 Adobo's ingredients can be easily found in your kitchen supplies. You just need the meat (pork or chicken), garlic, vinegar, soy sauce, a little bit of salt, and peppercorn, and if you want, you can add some dried bay leaves. This set of ingredients is the most common and simplest when cooking adobo, but the most important ingredient of your Adobo is love. When you cook with passion, your food will undoubtedly be delicious! It may take more than an hour of your time and effort, but it will be worth it! Some recipes can be found on the internet, check them there, and make your dad the best Adobo he can have on Father's Day.
Kare-Kare
This classic Filipino stew catches the hearts of Filipinos and foreigners who have tasted it when they visit our country. Kare is derived from the word curry, which means a dish that has meat and different kinds of vegetables flavored with hot-tasting spices and ground roasted peanuts, some are adding toasted or plain ground rice. It is a peanut-based stew in the Philippines that makes people add more rice to their plates, comforting their hearts. Just like Adobo, Kare-Kare has different versions. There are the Kapampangan Kare-Kare version, Pre-colonial Moro elite Kare-Kare version, and Sepoy soldier's version. Making this delicious will take two to three hours of your time due to the process of preparing the ingredients, as well as the process of braising the meat, but no time and effort will be wasted when this dish is served at your dining table. Your family will love it for sure, especially the man of the house.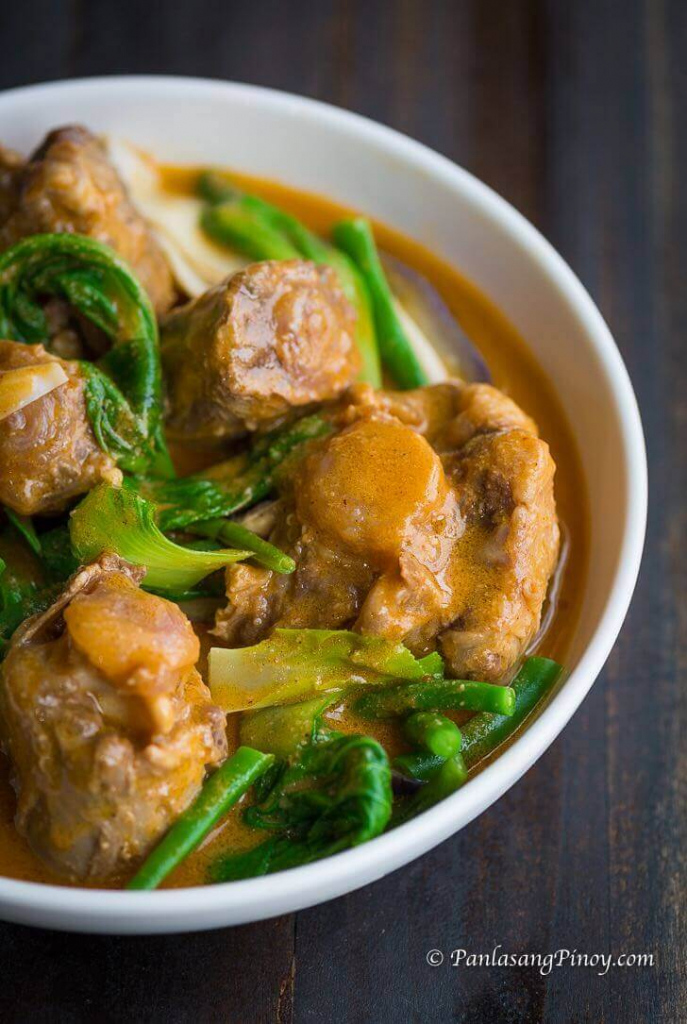 You may need to go to a public market or grocery store to buy some of the ingredients you need when you want to cook this Filipino dish. In terms of meat, people are using different types of meat, and they sometimes combine it all to have a variety of meat to choose from. You also need banana flower bud or the so-called banana heart, some pechay (Chinese Cabbage) or bok choy, some slices of eggplants, string beans, ground peanuts, peanut butter, annatto seeds, shrimp paste, garlic, onion, salt and pepper, some ounces of water, and toasted or plain rice. It seems that there are lots of ingredients needed to make this tasty food and that you need to cook for two to three hours, but it will all be worth it!
Sinigang
Who could ever forget the favorite dish of most of the people in the Philippines? The sour and flavorful taste of this dish just makes Filipinos love their own country and culture. This is a sour dish particular to the Philippines. Although it has similarities with stews from other Asian countries, the Filipino version is still the best stew. Filipinos use different types of meats when cooking this dish like beef, pork, and sometimes fish. Sinigang actually ranked as the Best Vegetable Soup in the World by a Taste Atlas. Moreover, people from the Philippines use different kinds of souring agents, but the most commonly used is the unripe tamarind or sampaloc. Some are using kamias, tomato, green mango, and santol, but it really depends on the person cooking the dish. Sinigang is easy to cook and prepare. It will only take more than an hour to be cooked.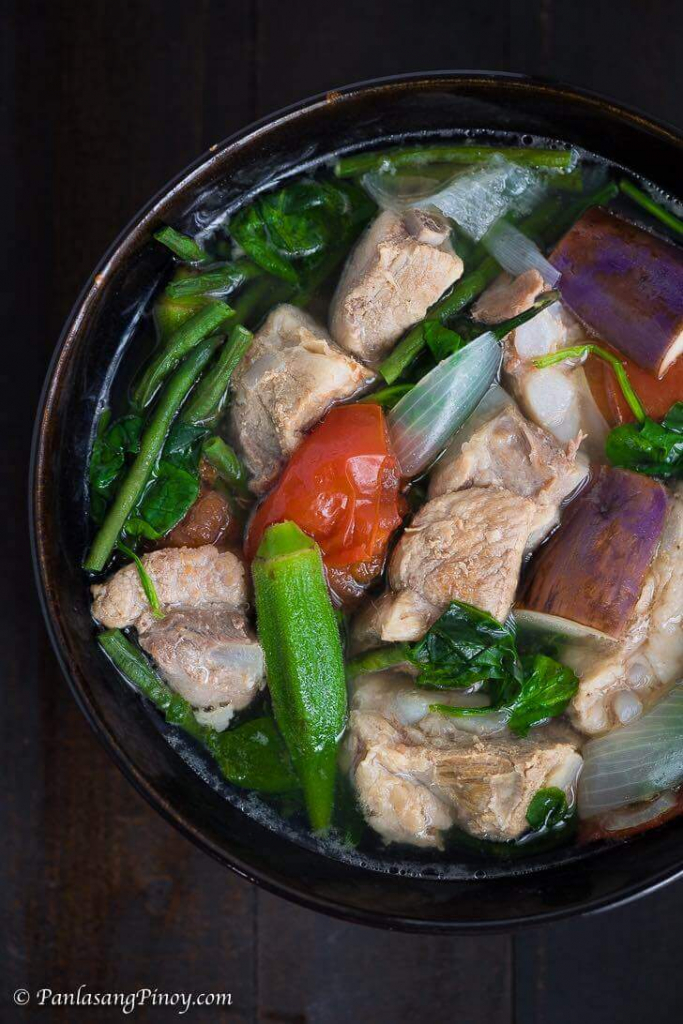 The dish doesn't require lots of ingredients. You just need the meat you want for your Sinigang, spinach, string beans, tomato, chili pepper, spinach, onion, taro, cooking oil, some ounces of water, and sinigang mix. You can easily find the ingredients in your kitchen, but you can drive to public markets just in case you need something since the ingredients are always available in grocery stores and markets. Making this dish on Father's Day will surely make your dad eat a lot! An extra bowl of rice! It is a dish perfect in cold weather. Best served hot!
Lechon
One of the things that dads are looking for on every occasion is the roasted pig or what Filipinos call Lechon. This dish makes every person excited to go to every fiesta, birthday, or small achievement celebration because the crispiness of this dish is so addictive. It is a dish in which the entire pig is stuffed with flavoring ingredients, glazed, and slowly roasted in charcoal. The crispy and golden brown skin of the Lechon when cooked is the one that most people like, but they will never resist eating the tender meat. The traditional way to cook this dish is through charcoal. The titos and lolos of the family would gather to slaughter the pig or piglet, then they would skew it in a bamboo pole. Some people use metal rods, but it is the traditional way of cooking the dish. After that, the pig is stuffed with a combination of vegetables and herbs. It may take three to four hours to be cooked, depending on the size of the pig.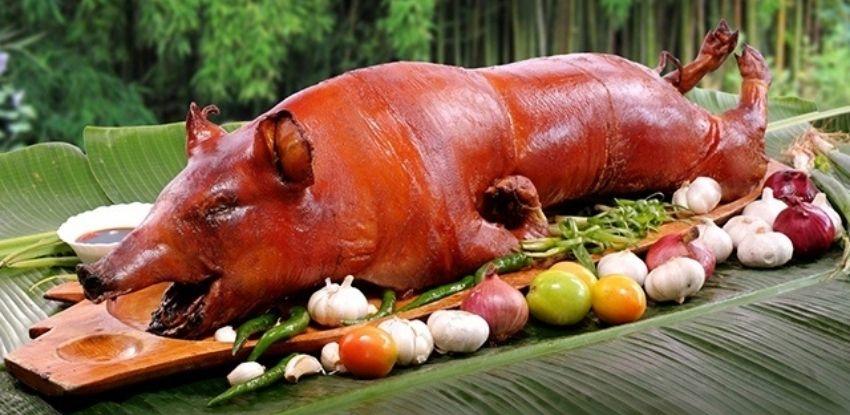 The ingredients may be expensive, but you won't get disappointed with the taste. All you need is the pig or the piglet, lemongrass, scallions, some leeks, chives, garlic, bay leaves, star anise, and tamarind. Make your dad feel so special by cooking him a good meal! Try Lechon on Father's Day!
Best Apps and Website for Recipes
With the help of modern technology, cooking has never been easier. Those who are newbies and professionals alike can make time in the kitchen easier than ever with the help of apps and websites. There, you can find thousands of recipes, directions, and lists at your fingertips and can be accessed with a single click.
Yummly
First on our list of apps is the application called Yummly. The developers of Yummly want to be as helpful as possible when it comes to cooking time. Yummly is one of the most popular culinary applications, with over 20 million users and a nearly five-star rating. What makes it accessible for many people is you won't have to pay anything to access it because it is completely free!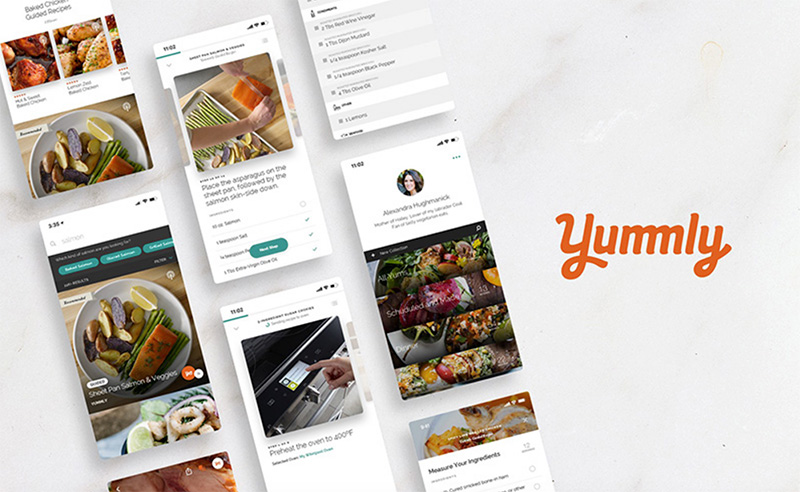 Over two million recipes can be found on Yummly, spanning from breakfast all the way to side dishes. Users can save their favorite recipes, meal plans for the kitchen, and informative articles on food. Users will now feel prepared for any cooking competition after using Yummly! Yummly is available on a wide variety of technologies, like Apple TV, iOS, and of course, Android devices!
All Recipes
All Recipes, a top-tier recipe website with estimated monthly users of over 25 million, takes the top spot. This platform provides users with thousands of recipes and meal preparation videos, thanks to a clean and easy-to-navigate website, and the support of talented and experienced culinary gurus. It also contains comprehensive how-to information on a variety of food-related topics. Users can also create their own profiles on the site and share their secret recipes with others.
Of course, there will be pros and cons. Starting with the pros. It provides access to a large recipe collection, complex searching criteria for targeted searches, and video tutorials for select dishes. The only con about this website is the loading speed of the recipes, they are slow because recipes contain a lot of information.
Tasty
If you know BuzzFeed, they are the ones who launched the Tasty app, which includes over 4 thousand unique recipes for users to choose from. Users may see what their dinner should look like in every inch of the journey, along with a textual explanation, before sitting down to enjoy their meal while binge-watching some series or movies.
Users can also use the iOS and Android apps to search for recipes based on what they're craving or what they want to avoid eating. Other recipes will be suggested based on which ones will users click on or are interested in. Furthermore, the app includes a feature that users can use to look for recipes based on what ingredients they have purchased.
Mealime Meal Plans & Recipes
For iOS and Android users, Mealime simplifies things in the kitchen. Each recipe specifies how long it should take and includes a shopping list so that consumers know what to buy at the store. However, the app is more than a simple recipe collection, it also serves as a meal planner!
Over 600 adjustments are available, including allergies, limits, likes, dislikes, and the number of people the recipe should feed. After users choose a meal plan or even just a recipe, a shopping list will be generated, allowing them to cross off what they currently own or have purchased. This app can be used by both experienced and inexperienced cooks.
Kitchen Stories
When recipes are carefully broken down and shown along the way, Kitchen Stories illustrates that everyone can cook. Each recipe includes a step-by-step pictorial instruction for iOS and Android users to see how their dish looks in comparison to the app.
Those who have tried a recipe can share their personal experiences or opinions with other potential users in the comment area. Each recipe icon indicates how long it takes to cook the dinner as well as how many people have tried and enjoyed it. There are also a number of articles about food and nutrition to read.
These apps and websites are a perfect bonding time for those who have a dad who likes to cook, also this will help you to cook your father's favorite meal on his special day.
Every Day is a Holiday at Camella Homes
It is not only during holidays that we feel that it's a holiday. Sometimes, you can feel it when you are living in a place where peace and rest can be found. The property developer wants to make its homeowners feel that every day is a holiday, that's why it builds peaceful communities in a healthy environment. Camella prioritizes safety and security, so you don't have to worry about the safety of your family. It also offers cool and resort-inspired amenities for homeowners to use whenever they need them. There are clubhouses, swimming pools, basketball courts, playgrounds, gardens, and gyms.
What's more interesting is that Camella prioritizes convenience. That's why all Camella sites all over the Philippines are strategically located where the places of convenience can be found. If you have a home at Camella, everything you need is just within your reach. If you are living in a community of trusted home builders, and you need to buy something at the grocery stores or public markets for the preparation of the food you are going to cook on Father's Day, all you have to do is walk past your community. Shopping malls, hospitals, and government facilities are also just a few kilometers away from you.
On June 19, the best thing to give to all dads out there working hard for their families is appreciation. Cook something for them, and dedicate that day to them. It is the only time when they want to feel appreciated and loved by their families. It is our time, as children or wives, to give back for all the sacrifices and efforts they have given to us. Happy Father's Day to all good and thriving dads out there!