From rustic ranch nuptials to boho-chic beach ceremonies, there's an array of beautifully themed venues where couples can celebrate the start of their happily ever after. But regardless of religious beliefs, many of us will agree that church weddings never get old, especially for pairs who wish to integrate their faith into their union.
In this predominantly Catholic nation, the classic scenario of the bride in a pretty white dress walking down the church aisle as the groom waits at the altar is always a memorable one for the couple and their guests. Dreaming of making this moment a reality someday? If you're currently residing in one of the Camella properties in Bulacan, you're lucky to have plenty of choices for wedding venues. Known for its rich cultural heritage, the province of Bulacan is blessed with many historical churches and religious sites where you can exchange your sacred vows.
Here are some of the best church wedding locations in Bulacan near your Camella home.
BARASOAIN CHURCH 
Also called Our Lady of Mount Carmel Parish, Barasoain Church in Malolos City has a special place in our Philippine history. It is where the Malolos Congress convened to draft and ratify the first Philippine Constitution, giving birth to the First Philippine Republic—that was also the first in Asia—in 1899. The Baroque-style church also has the title "Cradle of Democracy in the East, the most important religious building in the Philippines." If you're one of the many couples who want to get married in this site that oozes beauty and history, take note that you need to make a reservation and prepare at least one month before. You can schedule the wedding at any available day from Tuesdays to Sundays, and there are specific time slots to be followed.
Barasoain Church is only 19 minutes away from Camella Provence.
SAN LORENZO RUIZ DE MANILA PARISH 
This beautiful church in Pleasant Hills Subdivision in the City of San Jose del Monte was recently built, but its structure exudes an old-world charm. The former sub-parish of St. Peter the Apostle Parish in Tungkong Mangga serves as the home of the city's Sambuklod Festival. The groundbreaking ceremony of San Lorenzo Ruiz de Manila Parish was held in 2003 while its consecration and dedication happened three years later. It has lovely stained glass windows that depict the life story of San Lorenzo Ruiz, its patron saint. Couples who can imagine themselves exchanging their I dos here should have a scheduled interview with the parish priest, and they must register the date of their marriage in the parish office.
San Lorenzo Ruiz de Manila Parish is just 17 minutes away from Camella Monticello.
LA PURISIMA CONCEPCION PARISH 
Another historic church in Bulacan that you may consider having as your wedding venue is La Purisima Concepcion Parish in Sta. Maria, which recently celebrated an important milestone. This parish founded by the Franciscans in 1792 has been formally elevated to the rank of minor basilica by Pope Francis last year. According to a post by the Catholic Bishops' Conference of the Philippines News, it is the second minor basilica in the diocese after the Malolos Cathedral and the 18th out of 19 minor basilicas in the country. The church also houses the holy image of La Purisima Concepcion de Santa Maria. It's an ideal choice, especially for soon-to-be-wed couples who are Marian devotees as the parish is dedicated to the Blessed Virgin Mary.
La Purisima Concepcion Parish is just 11 minutes away from Camella Sta. Maria.
YOUR DREAM CHURCH WEDDING NEAR CAMELLA STA. MARIA
Pull off the perfect church wedding of your dreams in Sta. Maria, a first-class municipality in the province of Bulacan. It is only less than an hour's drive away from Metro Manila, which is 33.9 kilometers away. Other than that, Sta. Maria is an ideal home for you and the beautiful family you're about to build with your soon-to-be spouse, thanks to its low flooding incidence and location away from fault lines. The landlocked municipality has 24 barangays and among these, Barangay Pulong Buhangin—where your next Camella home in Bulacan is located—is the largest one.
Camella Sta. Maria, a 32-hectare residential development in Bulacan, boasts a secured community surrounded by nature-inspired open spaces, parks, and playgrounds. Here, you will also have access to lifestyle amenities that the whole family will enjoy. You can beat the heat with a few laps in the swimming pool or just chill out with your newfound buddies in the clubhouse on a humid day. For the athletic ones, there's a basketball court where you and your folks can have friendly games.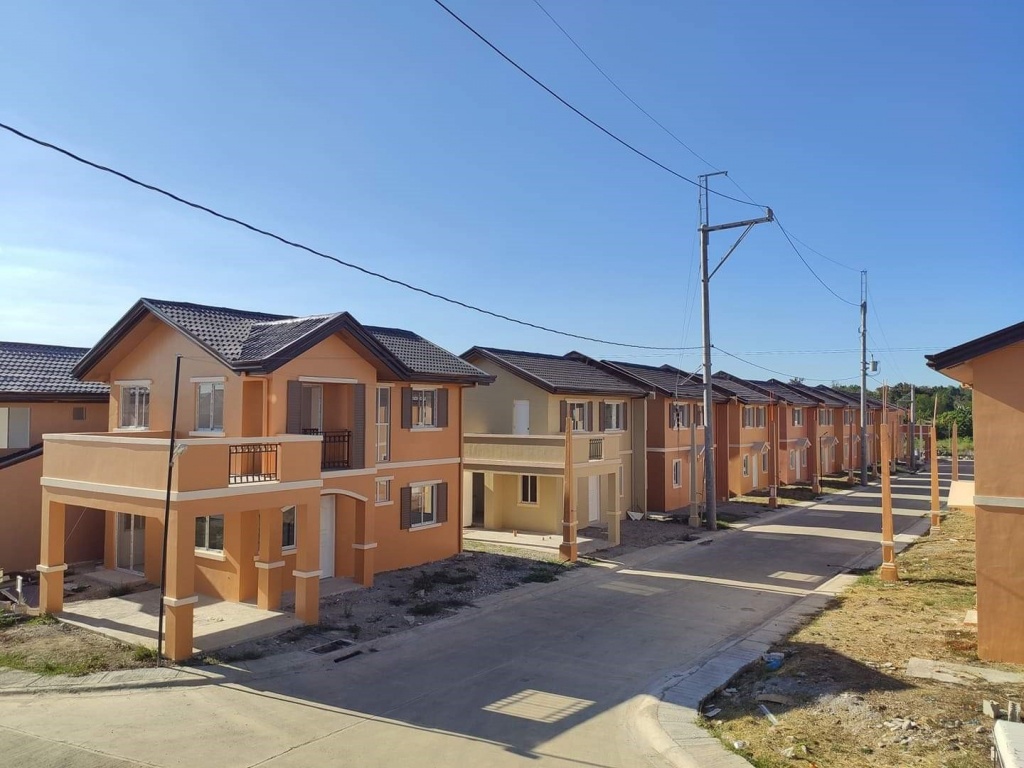 Aside from being close to La Purisima Concepcion Parish, Camella Sta. Maria is also accessible to other places of worship such as Our Lady of Mount Carmel Parish and Holy Family Parish Church. Some of the schools near the subdivision are the Polytechnic University of the Philippines (Sta. Maria, Bulacan Campus), Nuestra Senora Del Carmen Institute, and Darwin International School. The nearest hospital is St. Mary's Medical Services, Inc.
You don't have to worry about grabbing your essentials to stock your pantry. Savemore, WalterMart, and Puregold will be your go-to grocery shops while malls, such as Vista Mall Sta. Maria, SM Marilao, and Starmall SJDM are also within reach.
Among all the other Camella projects, this one in Sta. Maria is the nearest to the Philippine Arena, tagged as the world's largest indoor arena. For recreation, you can also visit Dad's Vineyard Resort and Butterfly Garden, Long Meadows Country Resort, and Sitio Lucia Resort Hotel and Training Center.
You can choose among various house models, such as Bella, Cara, Dana, Ella, and Greta. Bella is perfect for starting families as it offers all the basic and essential lifestyle features that you need. Among these are two bedrooms, two bathrooms, living and dining area, kitchen, and provision for carport. If you have a bigger household, you'll need a more spacious home like Greta. Its boasts five bedrooms, three toilet-and-baths, a living area, a kitchen, a dining area, balcony, porch, and two-car carport. The master bedroom features its own bathtub, so you can take a luxurious soak anytime you wish.
Ready to experience a well-balanced life in the province of Bulacan? Come home to Camella Sta. Maria now!