Are you on the lookout for an action-packed trip beyond the Mayon Volcano? The province of Albay in the Bicol Region is a hidden tourist gem that offers numerous activities for fun and leisure. Albay has always been on the top list of travelers and those who seek more thrilling adventures.
Why visit Albay?
Home to the world-famous majestic active volcano, the Mayon Volcano, this province would leave every traveler in awe with so many stunning views.
But there are more reasons to visit Albay than these fantastic sceneries. You'll surely love its nature-rich destinations and resorts, which everyone would include on their bucket list. Another exciting thing about Albay is its fascinating heritage sites, national museum, and unique culture and traditions.
Apart from this, Albay is also tagged as the "Gateway to Bicolandia" as it is accessible by air, sea, and land transportation, making it closer to any part of the country. It is one of the reasons it is one's dream destination, and many tourists would even wish to live here.
Where to go in Albay?
While there are still many precautions for travel, let us take you on a quick tour of the fantastic destinations in the province of Albay. After this, you can start planning your trip with your friends or family by listing your itinerary the next time you visit Albay province.
Good thing, we already listed below the best and exciting adventure-filled tourist spots and activities that you shouldn't miss.
Sunrise Trek at Mt. Masaraga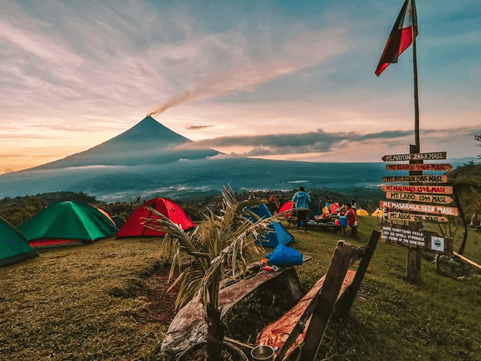 If you are up for a challenge and want to witness the sunrise with an unobstructed view of the majestic Mayon Volcano, mountaineering at Mt. Masaraga is the best idea.
Towering at the boundary of the cities of Ligao and Tabaco Albay, Mt. Masaraga is one of the three well-known mountains in Albay district, together with Mt. Malinao and Mt. Mayon.
Among these three, Mt. Masarga is the smallest, yet it it stands at formidable height of 1,328 meters above sea level. Prepare your travel kits and packs as the trekking will take you three hours with steep trails leading to the summit. Though arduous, the fresh air and gentle and breezy wind might be a consolation.
Another thing that you shouldn't miss here is the sunrise view! The best time to start the hike is at 2:00 in the morning. Despite the challenging ascent, nothing is more gratifying than seeing the breathtaking scenery and nature's wonders have to offer.
As you get on the peek, ready your sweaters because you'll feel the calm ambiance as the clouds start embracing the mountain.
Hike in Quitinday Hills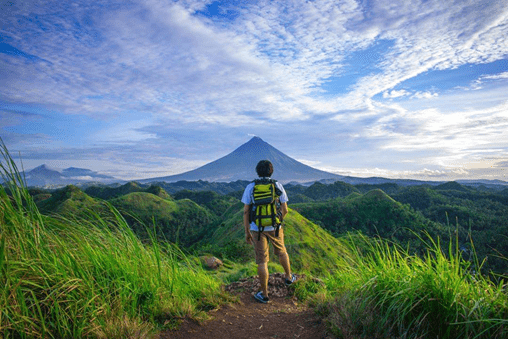 Have you seen Albay's version of Bohol's Chocolate Hills? You should go and never let the chance pass by without visiting this natural attraction in Camalig, Albay.
Quitinday hills are steep hill formations, ranging from 100 to 130 meters in elevation, which comprises so many verdant mounds. Of all these mounds, there are only 2 banks that are open for tourists. But these two peaks are enough to see the panoramic view and complete view of the iconic Mayon Volcano.
The entire Quitinday Hills tour would take you about six hours, including the two-way travel time. So making sure that you have brought all your travel kits and, of course, your camera is a must to capture the unique vibe and the magnificent backdrop.
Other hills you might want to explore:
Kawa-Kawa Hills in Ligao City
Ligñon Hill Nature Park in Legazpi City (featuring the Kapit Tuko Trail or Lizard Grip Trail)
Explore the Hoyop-Hoyopan Cave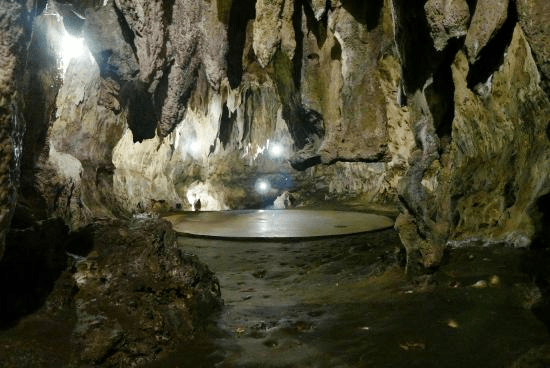 If you are not into so many physical activities but still want to explore, there is another natural attraction in Camalig, Albay. The Hoyop-hoyopan caves are one of the famous caves in the province because of their historical legacy.
Its existence has been traced back to around 3000B.C. From the cave entrance, you could already feel this place has a relaxed ambiance, hence its name "hoyop-hoyopan," which is a Bicolano term for "blow of the wind."
As you enter the cave, there are many rock formations that you can see in different images. There is also a well-known stalactite hand formation along its craggy walls that some of the native people here believe that one should give respect to this hand or do a "mano" on their first visit.
It is better to wear comfortable clothes during your visit as you may need to climb and crawl inside the cave. Visiting would be more exciting because you can also hire a tour guide there who can share interesting and valuable pieces of information.
Other caves you might want to explore:
Calabidongan Cave in Legazpi City
Pototan Cave in Batan Island
Paddle at Sumlang Lake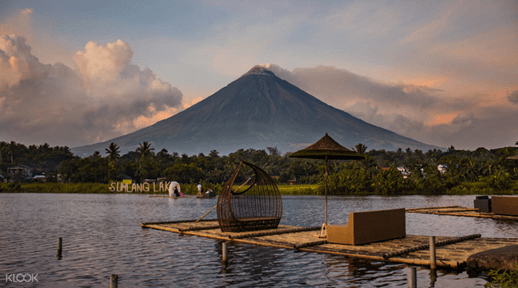 Suppose you want to relax and enjoy an eco park adventure. In that case, you can head on to Sumlang Lake. It is said to be the only body of water where you can capture the perfect reflection of Mt. Mayon. Isn't it amazing that you would have a good catch of Mayon Volcano wherever you go here in Albay?
With the help of boatmen, you can take a tour and cruise the lake. There are bamboo rafts with beautiful rattan chairs and floating couches that are perfect for capturing Instagram-worthy photos. You'll probably enjoy the relaxing vibe of this place.
And by the way, this place is also best for friends and family picnics, so don't forget to bring snacks or picnic baskets with your loved ones.
Other eco parks with a fun and scenic playground and stunning view that you might want to visit:
Cagraray Eco Energy Park in Bacacay Albay
Albay Park and Wildlife in Legazpi City
Mayon Volcano National Park in Tabaco City
Dip in Jovellar Underground River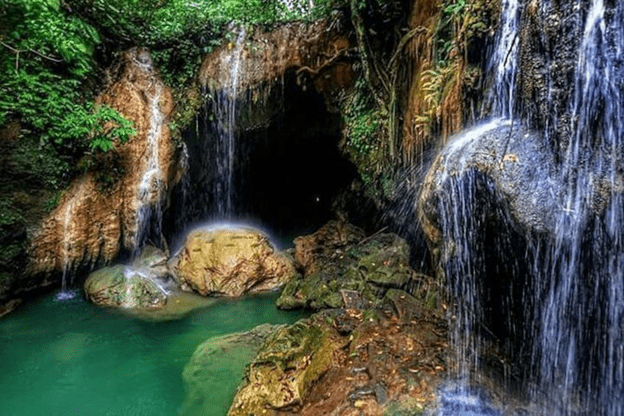 If you want your Albay tour to become more thrilling, pack light and go on an off-road adventure to Jovellar Underground River. Locals say that this river and its deep blue waters is Albay's version of the Palawan Subterranean River. Still, some say that this is unique and with thrilling experiences.
It became popular Albay tourist spot through social media, where it gained all tourists' attention because it features a cave with crystal clear water and lush greenery.
A bamboo raft will stake you through the stream with a 150-meter long cave to have a round tour along the river bank. Be prepared also and bring your swimsuits along with comfortable clothes and a waterproof camera. Enjoy and be amused with all the magnificent natural attractions in Jovellar.
Visit the Mayon Volcano Skyline Viewdeck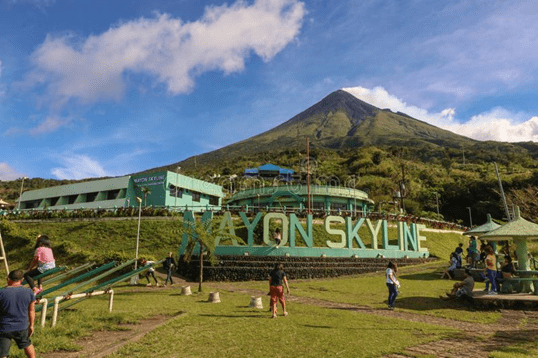 Want a closer look at Mayon without stepping on the volcano base? Get a good view of Mt. Mayon from the Mayon Skyline Viewdeck at Tabaco City. Nestled at the eastern side of Mayon Volcano, this recreational destination has the same vibe as that of Tagaytay City, with the cool breeze and a fantastic view of the city.
From here, you can have a panoramic view of Mt. Malinao, Mt. Masaraga, and Albay Golf, making your stay worth it. If you are brave enough to explore more of the Mayon Volcano, you can climb and go through the trail. But be sure to ask for assistance from the local tour guides to ensure your safety.
Experience an ATV ride to Mayon's Lava wall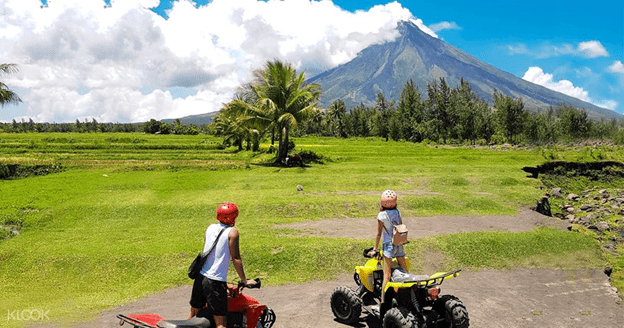 ATV on Mayon's lava trail in Legazpi City is one of the best activities you should try during your visit. This would bring your adrenaline rush through the muddy and rocky roads.
As you get through the trail, experience an up and downhill trek with a picturesque backdrop of Mayon. The trail ends at a 6-kilometer radius from the volcano's crater, and you can also physically touch the lava and volcanic rocks the from the volcano's most violent eruption. Roll your way with your friends and family to this another one-of-a-kind experience.
Have fun at Legazpi Boulevard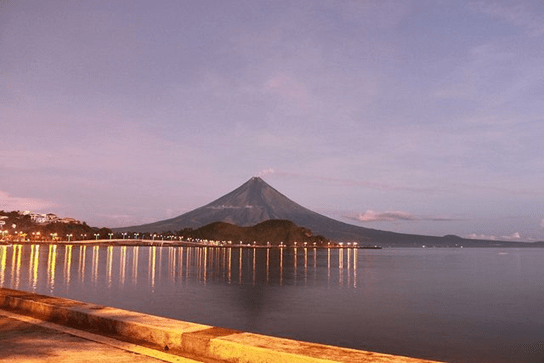 One of the most picturesque and cleanest boulevards in the Philippines is found here in Legazpi City. This boulevard extends the city's business district to the southern part of Legazpi. Facing the Albay Gulf and nearby islands plus the stunning look of Mayon, this place can't stop every tourist from taking photos and capturing special moments.
Aside from the beautiful sights, Legazpi Boulevard has a lot to offer. It is a perfect place for your fitness activities like jogging, biking, and even dancing Zumba. This is also where you can find Sawangan Park, which is the newest attraction in the City. It has an outdoor gym where everyone can use, plus a jogging path along the road.
What makes it more exciting is its vibrant nightlife—the boulevard magnets travelers with its numerous bar and restaurants, which will satisfy your cravings.
Want to explore more of Albay's best destinations? Be close to these stunning natural and artificial attractions by living in a community accessible to leisure and recreational sites. Come home to your new home here in Albay. Live conveniently here in Camella with these house and lot for sale in Legazpi. You may also check out our property for sale options and project locations nationwide.