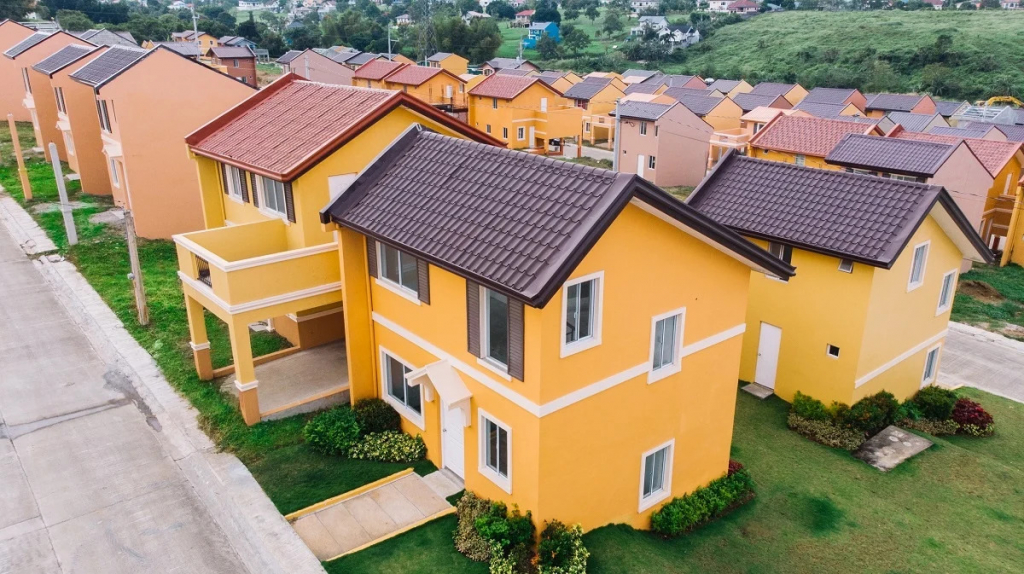 Real estate is a safe bet when it comes to investment. You may be a homeowner who wants to invest in other houses. However, buying real estate property can be intimidating for Filipinos new to the market. In any case, it's critical to understand the fundamentals of real estate investing.
Property has the potential for development and stability that stocks and bonds do not. Your first property purchase might be beneficial even if you're a first-time investor with no prior expertise or coaching from a real estate investment group. Investing in real estate has several risks. However, there is a learning curve, as with most things. Before diving into the deep end, you'll need some practice.
What exactly is real estate investment?
Real estate investment is the ownership of properties such as land, homes, buildings, and other items above and below ground to earn income, as opposed to purchasing just for residence or occupation.
Real estate investment is one of the most well-known types of investing, predating the invention of stock trading. Some of the common real estate investments include real estate investment trusts, rental properties, and real estate crowdfunding, Compared to mutual funds and stocks, these are safer options.
Due to ongoing property price increases, it is regarded as one of the safest strategies for increasing your money. Even during the most severe economic downturns, there is still a demand for real estate. And it has shown to be a fantastic and safe long-term investment alternative, especially when compared to equities or other high-risk investments.
However, it takes more work than depositing millions of pesos and forgetting about it for a time, or so many believe. Many people still believe that buying real estate is practically recession-proof. Real estate investors should ensure they have all the needed information and experience before making this purchase. You risk losing your hard-earned money if you do it improperly.
Given its resilience, real estate investing in the Philippines is generally a solid choice. However, real estate, like other assets, carries risks. Here are the advantages and disadvantages real estate investors should consider while studying how to invest in real estate in the Philippines.
Start Investing in Camella Homes near You
Investing in real estate may be daunting at first, but it becomes interesting if you grasp the fundamentals. If you are new to real estate investment property, real estate projects from real estate developers like Camella are a good real estate investment.
A consistent cash flow and passive income help you pay your mortgage while increasing your equity. As you accumulate equity, it increases your net worth, allowing you to get more leverage when purchasing another home in the future. Profits can also be made by investing in commercial real estate.
Tax deductions and breaks are especially appealing to investors since they allow them to pay less in taxes. The costs of owning, managing, and maintaining a property can be deducted, lowering your taxable income.
Choosing the right unit is critical for homeowners who wish to acquire a house and lot for personal use. You will require a safe area, a lovely neighborhood perfect for growing your family, and the right house for you and your family.
Camella aspires to give the greatest possible property for your first real estate investment with over 45 years of experience developing suitable houses for every Filipino. Camella, an industry pioneer in master planned communities, promotes green communities and smart home living through its top-of-the-line house and lot units.
Camella provides a diverse selection of houses and lots for sale in prominent areas around the Philippines. Camella's communities are thoughtfully designed to give you maximum comfort and convenience. There are five easy ways in investing a real estate property in Camella.
Five easy ways to invest in Camella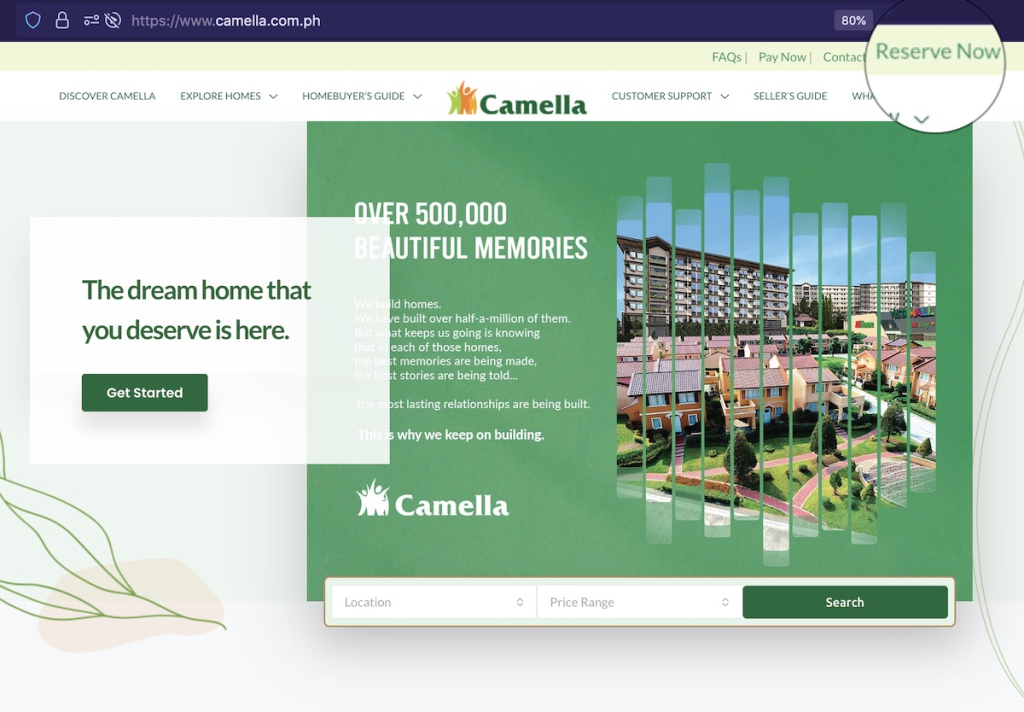 Step 1: Visit Camella Homes' Website
Enter https://camella.com.ph/ and click the reserve now button in the upper right corner of the screen, just next to the contact us button. That's all there is to it for step one!
Step 2: Complete the Reservation Form
After you accomplish step one, a reservation form will display on your screen. Fill in the spaces with your personal information and the location of the unit you've chosen. Once you're done, you may go to the following stage, which is payment.
Step 3: Online Payment
Homebuyers can pay the reservation fee online after completing the reservation form. Camella has a number of bank partners and third-party facility payment partners to provide clients with various options. Online payment options include AllBank, AQWIRE, BDO, PNB, Union Bank, Maybank, Pesopay, e-wallets, and foreign remittance centers. Visit Camella Payment Facilities for additional details.
Step 4: Fill Out And Submit The E-BIS
Buyers will get an email from Camella soon following payment confirmation. It includes an electronic Buyer's Information Sheet (eBIS) that the client must complete. Save the completed eBIS and email it to Camella.
Step 5: Briefing on Marketing and Administration
Homebuyers will be called on the same day as their reservation for a briefing, one with the marketing officer and one with the administrative representative. The representatives will describe the extent of the reservation, the paperwork signed, the payments, and, most importantly, the requirements to be submitted to the purchasers in different sessions throughout this briefing. Clients are encouraged to ask questions and obtain clarification on details regarding the house and property, as well as other elements of the home purchase.
Why Finding a Real Estate Investment in Camella is Easy
Finding your ideal real estate investment is easy in Camella for several reasons.
First, there are Camella projects in 49 key cities and provinces across the Philippines, giving this real estate development a wide reach for potential investors. In terms of real estate properties, Camella has units both in the house and lot and condo market, giving you better choices of real estate investments.
Aside from Camella's wide reach and availability of real estate investments, Camella's digital efforts through online real estate platforms make it easy for people to find the best house, lot, or condo unit for their business. Visiting the Camella website easily gives investors a glimpse of the projects and house models via virtual tours.
Because of its reputation, real estate investment groups in the country consider Camella as a prime real estate investment, especially as a rental property. Camella's branding over the years lead to more mortgage payments and rental income for those who want to improve their personal finance or diversify their real estate portfolio.
As a real estate investor, you want to invest your hard-earned money in a company that gives you ease and security. Have your first investment at Camella today!
Camella Capas: A Community Near New Clark City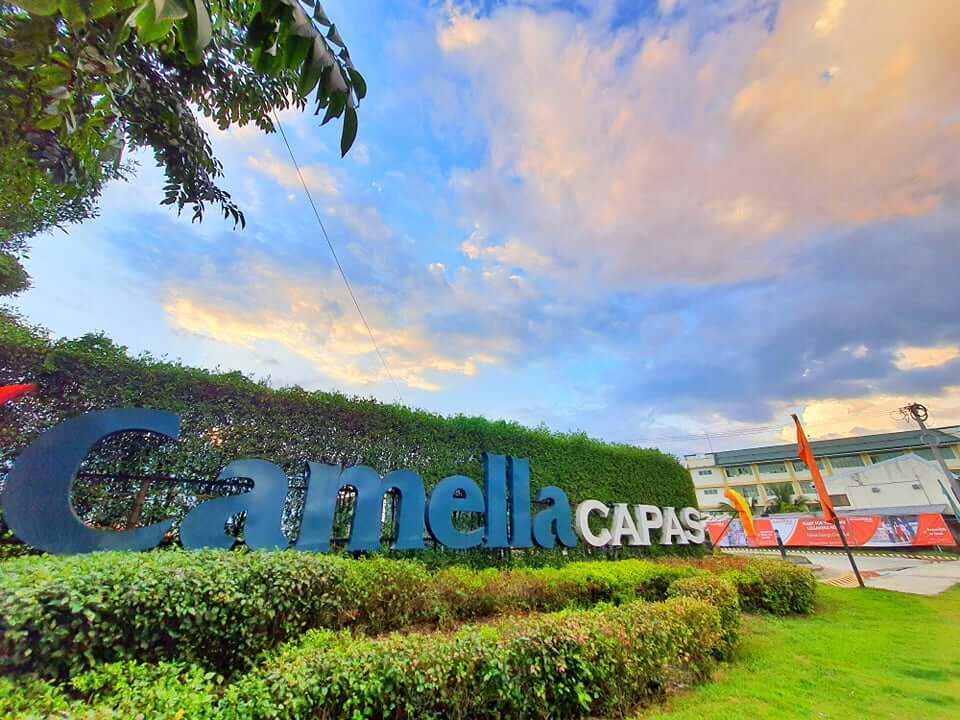 Camella Capas, a magnificent 17-hectare neighborhood, is 15 minutes away from the Philippines' future tourist capital and growing green city, New Clark City.
This property is a Mediterranean-inspired neighborhood offering every Filipino's ideal homes in Capas, Tarlac. Enjoy the aesthetically pleasing home designs available in the neighborhood, and build life's fondest memories in the family-friendly amenities such as the clubhouse, swimming pool, basketball court, pocket parks, and playground.
We are confident that every peso you invest in this diversified region, particularly in Camella projects, will result in improved investment options and will assist you in developing your real estate portfolio.