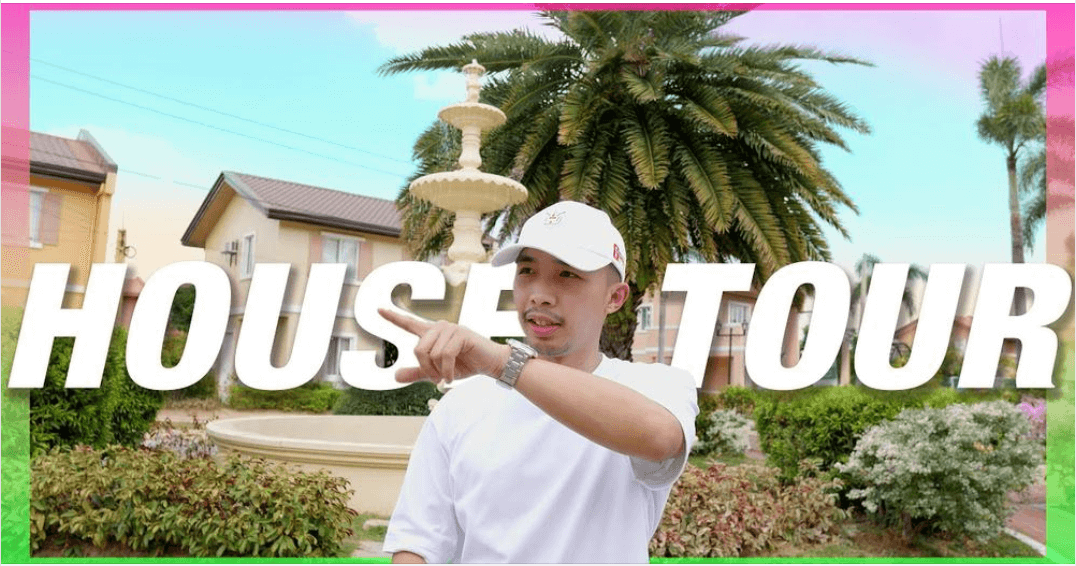 Planning to buy a house soon? Then this article is for you! We will discuss what Oliver Austria, a known Filipino vlogger, and architect, has to say about houses as he visits two model houses of Camella Tarlac.
The Pinoy Architect
Oliver Austria is a Filipino licensed architect from Baguio City, famous for his reaction videos on YouTube, mostly of famous people like Slater Young and Yeng Constantino.
In one of his recent videos, he featured two model houses in Camella Tarlac, Greta, and Freya. But before we explore this further, let's look into the different kinds of dwelling places that Oliver mentioned in the video to see which is the best choice for you!
Types of Houses
The four types of houses that Oliver mentioned were: condominiums, row houses, semi-detached houses, and single detached houses. These house types are created to cater to the needs of individuals in the hunt for their dream homes. Check out what works for you.
Condominiums
A building or structure with multiple units, each or several, owned by different individuals. This type of housing is suitable for professionals looking for their own space or as a halfway house as well as for starting families like newlyweds.
House and Lot
Row housing is where several houses in one street share common walls and look similar to each other. Row houses are bigger than condo units and perfect for starting families.
The semi-detached housing is similar to a row house, except that with a semi-detached, only one wall is shared by two houses. This can be a good option for a family of three looking for a slightly bigger space than a row house.
Unlike a row house and a semi-detached house, a single detached home stands as a single unit, not connected to another house, with side walls or "setbacks." This category is where the Greta and Freya models come in.
Greta and Freya House Models
Greta is a model house with 166 sqm. floor area. It is a two-story house with five bedrooms, three bathrooms, and a two-car garage.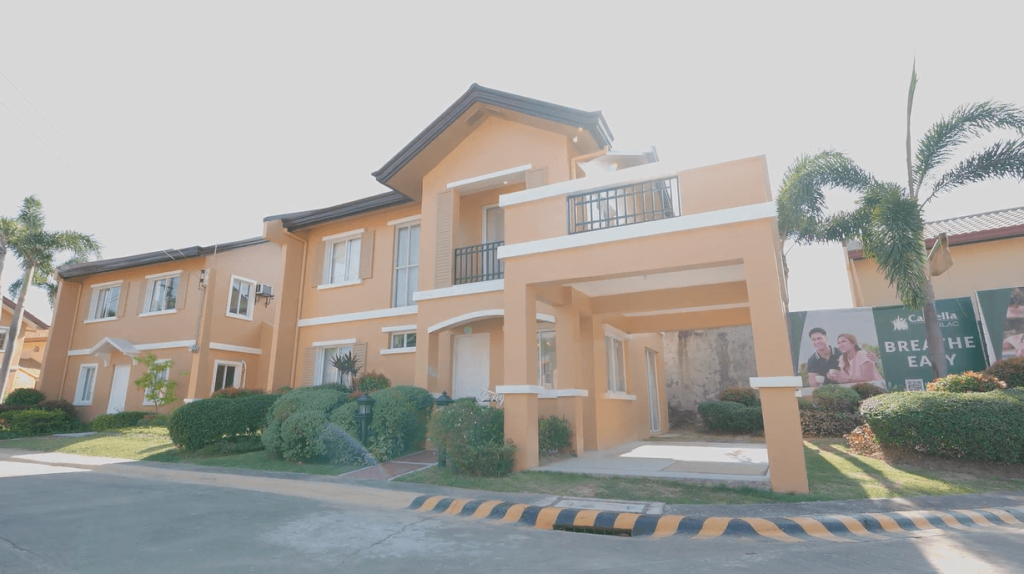 On the other hand, the Freya model home is a little smaller, with a 142 sqm. floor area. It also has five bedrooms and three bathrooms, and a carport for a single vehicle. The main difference between the two model houses is the presence of a firewall in the Freya home.
Both models are perfect options for growing families.
Let's dig deeper as we discuss the important things we need to watch out for when buying a house.
What to Look for in Houses
Every model house has different floor layouts. How will you know which one is best suited for you and your family? Let's find out.
Parking space
When buying a house, one of the most important things to consider is parking space, especially when you have a car. Looking for a house with a parking space is essential for your vehicle's security. The Greta and Freya model houses provide two different parking space options. If you have more than one vehicle, the Greta model would be a great choice for you. It is also a better choice for those owning large vehicles like SUVs, pick-ups, or vans. However, for those who have only one car, the Freya model offers a one-car garage.
Having a parking space adds quality to your property, so even if you don't have a car, it still should be one of the things you should take into account.
Living room
Comfortable and cozy – these are two words that should be associated with a living room. This is the first section of the house upon entering and where families usually spend most of their time together, doing game nights or movie nights. It should be both aesthetically pleasing and comfortable.
Based on Oliver's first impression when he came inside both houses, the Greta and Freya house models met the two criteria, with their pastel-colored walls and cozy sofa with matching pillows.
Dining area
The dining area is one of the most intimate spaces in the house. Eating together is an essential part of our lives, and the dining room is a space where we can share our meals with the family. Apart from that, the dining room is also a place where you can entertain guests, like the living room.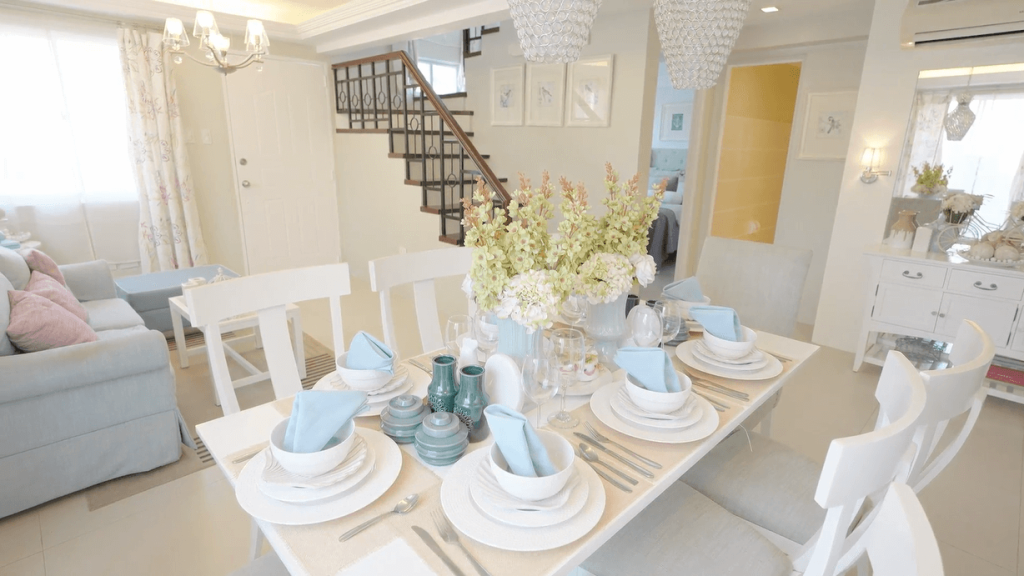 With this in mind, you should consider the size of your dining area. As mentioned by Oliver, the number of guests that can sit in the dining area is the basis of how big your dining space should be. Both the Greta and Freya house models have a dining room that can cater to a maximum of eight guests. So if you're a person who likes to throw parties or invite people over, both model houses fit the bill.
Kitchen
The kitchen is one of the main sections of a house. Its design is important for you to be able to cook comfortably in your own home. As featured in the video, Greta and Freya models showcase two different kitchen styles: A U-shaped kitchen space for the Greta home and a one-wall kitchen space for the Freya home.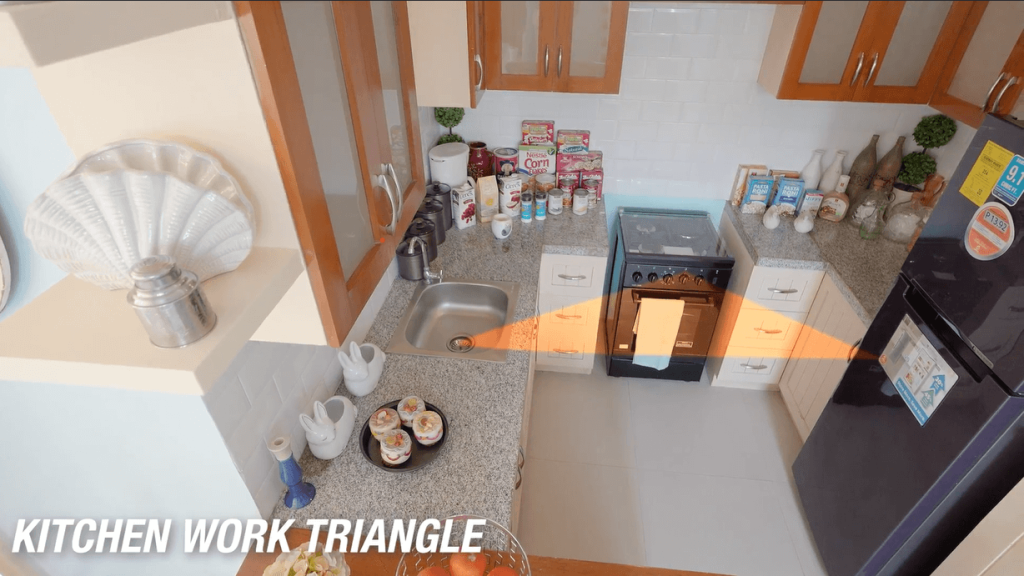 A U-shaped kitchen is user-friendly as almost everything is accessible to you. This is the best example of a kitchen design featuring the "work triangle" concept. The work triangle in a kitchen is composed of the cooktop or stove, the sink, and the refrigerator. Its main purpose is efficiency, from preparing the ingredients to cooking the meal and cleaning afterward. Although the presence of a work triangle in a kitchen is said to be essential in a kitchen, it has its limitations. If you have more than one cook in the house, a U-shaped kitchen may not be suitable for you. You may consider other kitchen designs, like the one-wall kitchen.
The one-wall kitchen is a simpler design than the U-shaped kitchen. Instead of a work triangle, it provides a linear workspace where the distance between the three main workstations matters. According to Oliver, there should be a 40-cm distance between the stove and the sink, providing space for the preparation process.
Stairs
"Oro, Plata, Mata…" Oliver kept saying this on each step of the staircase. This concept began during the Spanish era. It is a superstition that says that the number of steps in a staircase matter. Oro means gold, Plata means silver, and Mata means death. Looking at their meanings, when a staircase ends with either Oro or Plata, it symbolizes good luck; however, if it ends in Mata, it symbolizes bad luck. Even though it's just a superstition, most home developers follow this concept to offer a good fortune to their clients. A good example of this is the Greta model house featured in the video – the last step of its staircase is Plata. Even if you're not a believer, it's still a fun activity! So when visiting your potential houses, try reciting "Oro, Plata, Mata" as you walk up the stairs.
The space under the stairs is also another thing you need to consider. As seen in the house tour, the Greta model has a storage room under the stairs. It is a great use of space as it gives you extra room to use.
Bedroom and Bathroom
When looking for houses, two important things to consider are the bedroom-bathroom ratio and the distance between the rooms and bathrooms. In the Greta model, there are five bedrooms and three bathrooms. The first bathroom is on the ground floor, perfect for guest use. One bathroom is in the master's bedroom, with the last one in the hallway where the two other bedrooms are located.
While the Greta and Freya model homes both have the same number of bedrooms and bathrooms, the Freya model features a unique bathroom design: the Jack and Jill bathroom. It is a bathroom with two doors, in between two bedrooms. It is best suited for couples with two kids.
The Best House Model
From U-shaped kitchens to Jack and Jill bathrooms, there are a lot of design options you can consider – you can mix and match these designs, whichever one best answers your needs.
With Oliver's house tour, we can say that both models are worth considering as your future home. The number of bedrooms in each model house are ideal for families with more than two kids. It also provides a lot of extra spaces that you can either turn into a guest room or a storage room. Want to check out these house models? Visit Camella's website and search for the Greta and Freya model homes.
Celebrate Life's Milestones in Camella Tarlac
House and Lot for Sale in Tarlac City, Tarlac