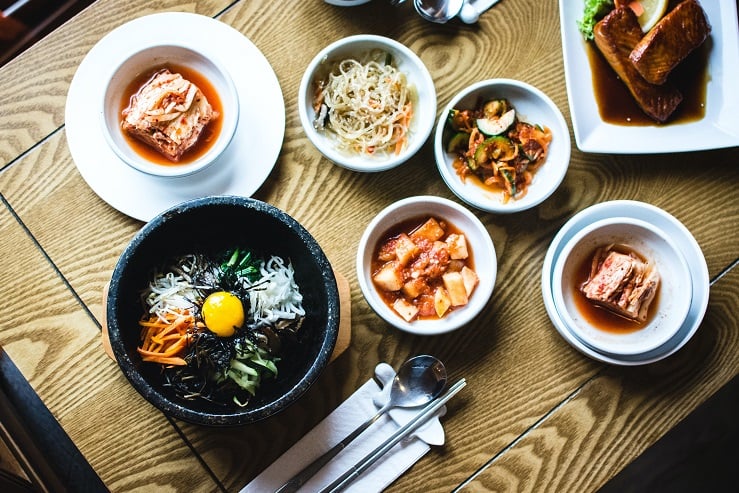 Angeles City, Pampanga is considered a highly urbanized city and one of the most advanced and active cities in the country as it is located near the Clark International Airport. Balikbayans, tourists, and Koreans no wonder chose Angeles to settle since they can go back and forth to their country without a hassle.
Who would have thought that experiencing your Korean dream doesn't need to be expensive? No need to fly to Korea and be fancy because you can experience them all at once here at Korean Town! Korean Town is a hub of restaurants, Korean grocery stores, and bakeries located in Fil-am Friendship Highway, Angeles City.
Ready to take a trip? Fasten your seatbelt and let's visit some famous Korean cafés, restaurants, and stores in Korean Town, Angeles City!
Visit the Korean Café & Restaurants
Filipinos are undeniably food lovers. And truly, There is a reason why Pampanga holds the crown of being the Culinary Capital of The Philippines. If you are a fan of unlimited foods, try this Unlimited Samgyeopsal you should not miss out on these restaurants in the outskirts of Korean Town.
Sky Garden Café & Resto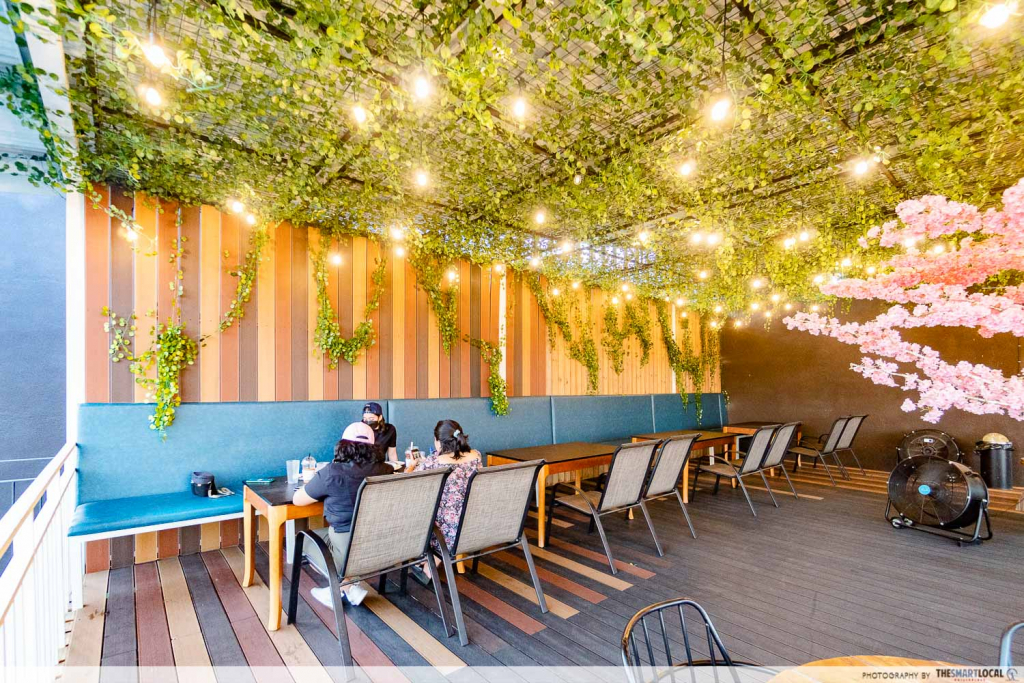 Want to enjoy an Al Fresco cozy dining experience that lights up at night? For restaurant-goers who loves outdoor place to eat, hang out place with loved ones, find a nice view to work on, or hold a special events and gatherings, you should consider visiting this ideal K-inspired and picture-perfect café.
This resto has an eye-catching modern style and upon stepping inside, you'll be greeted by an attractive chandelier that matches every piece of its décor and furniture. All corners of the room have different areas where you can stay depending on your needs.
They have a mini-library for bookworms, private function rooms for celebrations, and a roof deck where you can enjoy the view of skylines making you feel at home. They serve a variety of coffee and non-coffee-based refreshing drinks, all-day breakfast, desserts, and pastries.
Location: 4th-6th Floor Eclat Building, Fil-am Friendship Highway, Angeles City Pampanga
Opening hours: 10AM – 12AM
Dwaeji Galbi Restaurant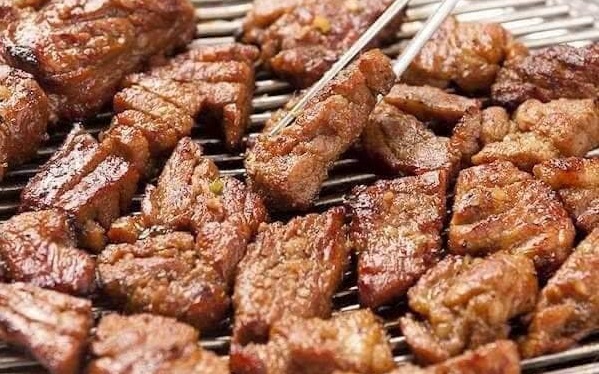 If you are looking for a restaurant that serves Jjajangmyeon (black bean noodles), this is the right place for you. Also, they offer different Korean meals depending on your preference.
This restaurant has a menu of noodles, rice meals, stew, and other Korean dishes that you will enjoy. There is also a set menu that includes multiple meals and can feel several people at once.
Some of Dwaeji Galbi's bestsellers include pork belly, marinated pork, Korean spicy seafood noodles, black bean noodles, sweet and sour shrimp, and sweet and sour pork.
Location: Stall 1 Blk 39 Lot 5 Friendship Highway Cutcut, Angeles City (In front of Running Man Gym)
Opening hours: Open 24 hours daily
Boom Chicken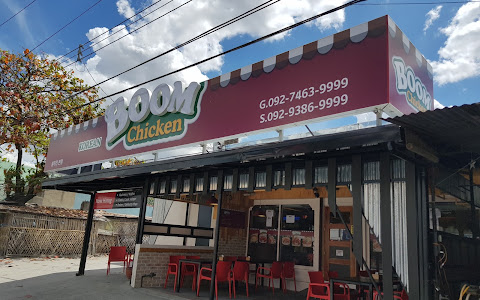 Craving for a Korean style fried chicken? Look no more. This restaurant offers different authentic flavors from spicy or non-spicy and fried or non-fried chicken. They offer free delivery on orders over 450 pesos and come with free side dishes when you ordered chicken at their restaurant.
You can order a whole chicken, wings, breast, and gizzards. Boom Chicken has six flavors on their chicken and they are fried, sweet, spicy sweet, hot and spicy, soy, and garlic. There are other items in the menu such as pork cutlet, squid, and sausages but they specialize in chicken.
Location: 6630 Fil Am, Friendship Highway, Angeles City Pampanga
Opening hours: 11 AM – 9 PM
Day One Restaurant + Korean Bar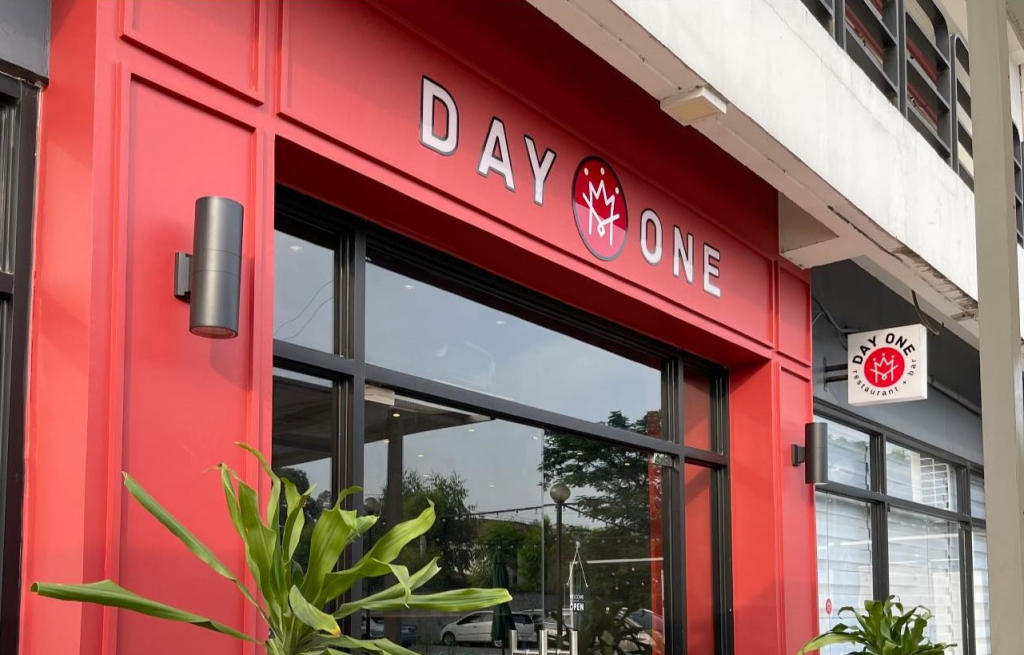 If you love to chill with your friends and loved ones, check out this new hangout place in Angeles City! This Korean-inspired café can channel your inner Korean self! As you step into the café, their front door will surprise you as it is inspired by a Vendo machine where you can take a picture for your Instagram-worthy post!
This café serves yummy overloaded pizza (starts at P330), pasta (starts at P180), scrumptious rice meals (starts at P160), and offers drinks with a cute bear on top (starts at P140) to satisfy your sweet tooth cravings!
Location: Block 29, Unit 104-106, Ominstellar Building, Fil-Am Friendship Hiway, Angeles City Pampanga
Opening hours: 11 AM – 9 PM
Songdo Korean Restaurant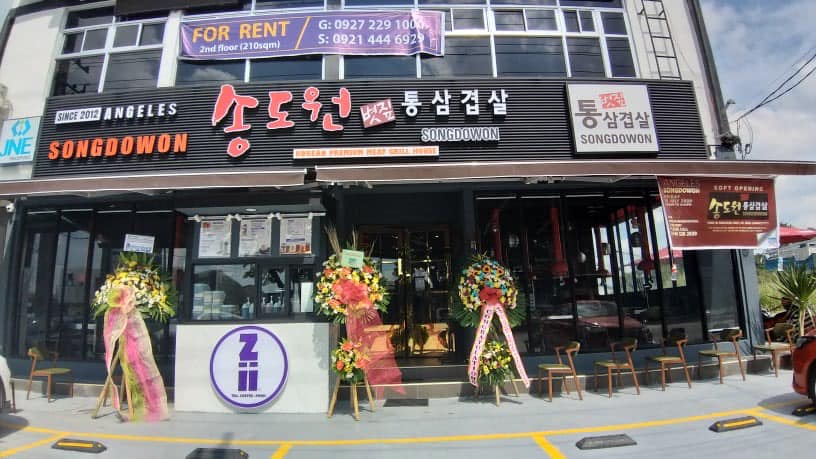 This luxurious meat grill house only serves authentic premium meat topped with delicious side dishes that will leave your mouth watering. If you found yourself lurking for food around Pampanga, don't miss out on the opportunity to dine in this restaurant!
Songdo Korean Restaurant is for those who has an appetite for Korean fine dining. Most of their menu items are separated into sets and each set has mouth-watering side dishes that you can enjoy. Think of this restaurant as a high-end samgyeopsal that serves wagyu steaks and authentic Korean dishes.
Location: Lot 30 Blk 15 Fil-Am Hiway, Brgy. Pampang, Angeles City Pampanga
Opening hours: 11AM – 12AM
Shopping at Korean Grocery Stores
Currently Binge-watching your K-dramas and you suddenly feel envious and crave the Korean foods that the actors eat on your favorite show? The search is over. Whether you are planning to cook Tteok-bokki, kimchi, or Samgyeopsal, we have listed some famous Korean groceries for your food haul.
Kim's Singsing Mart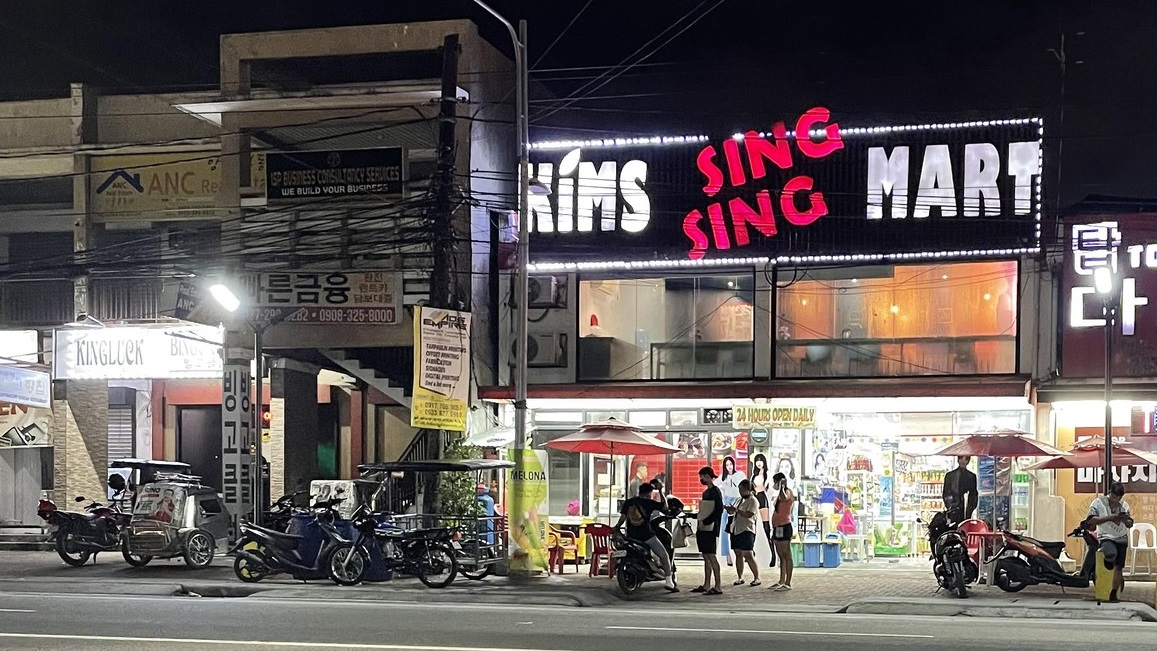 The Kim's Singsing Mart is your one-stop shop that offers a wide variety of good quality k-products at a reasonable price. They sell snacks and drinks, condiments, frozen meat, stews, classic Korean delicacies, and other ingredients you need to complete the k-food experience in the comfort of your home!
Location: Lot 7 Blk 6 1-2 Arceo Bldg. Friendship Hiway, Anunas, Angeles City Pampanga (Near Jollibee Korean Town Friendship Hiway, Infront of Jongno Clinic)
Opening hours: Open 24 hours daily
IM Nice Mart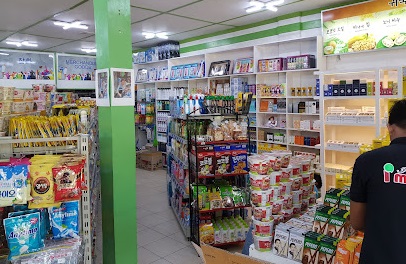 Up for rice cakes, canned goods, honey ginger tea, samgyup stuff, ice cream, and other Korean goods? Head over to IM Nice Mart for a genuine Korean experience! It also has an online store for your convenience buying your essentials needs and favorite Korean brands anywhere, anytime!
Location: Stall 3-C, Fil-Am Friendship Hiway, Brgy. Anunas, Angeles City, Pampanga
Opening hours: Open 24 hours daily
A home at the center of Korean Town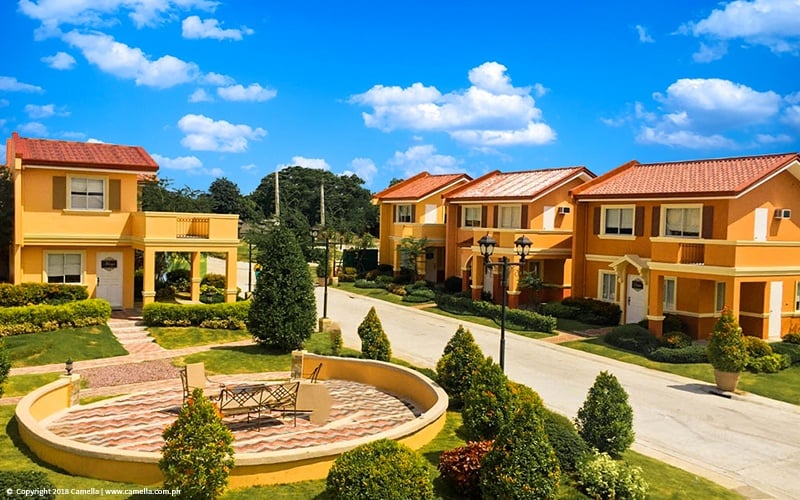 If you imagine yourself living in the center of the Korean lifestyle you want, you might consider living in Angeles City Pampanga. Good thing, Camella Pampanga is just less than a 10-minute drive from the famous Korean Town Proper.
Camella Pampanga is also the nearest Camella project that is unsurprisingly 15 minutes away from Clark International Airport. It is also near major shopping malls like SM City Telabastagan, Marquee Mall, Nepo Mall, Newpoint, Vista Mall Pampanga, and other business establishments.
This township is located at Brgy. Sta Cruz, Porac via Friendship Highway, Brgy, Fil-Am Friendship Hwy, Angeles, Pampanga. It offers different house and lot packages and lot-only packages for your investment.
Ready to explore opportunities soon and be in the heart of the city of Pampanga? Explore the great potential and take advantage of living in a developing city in Angeles!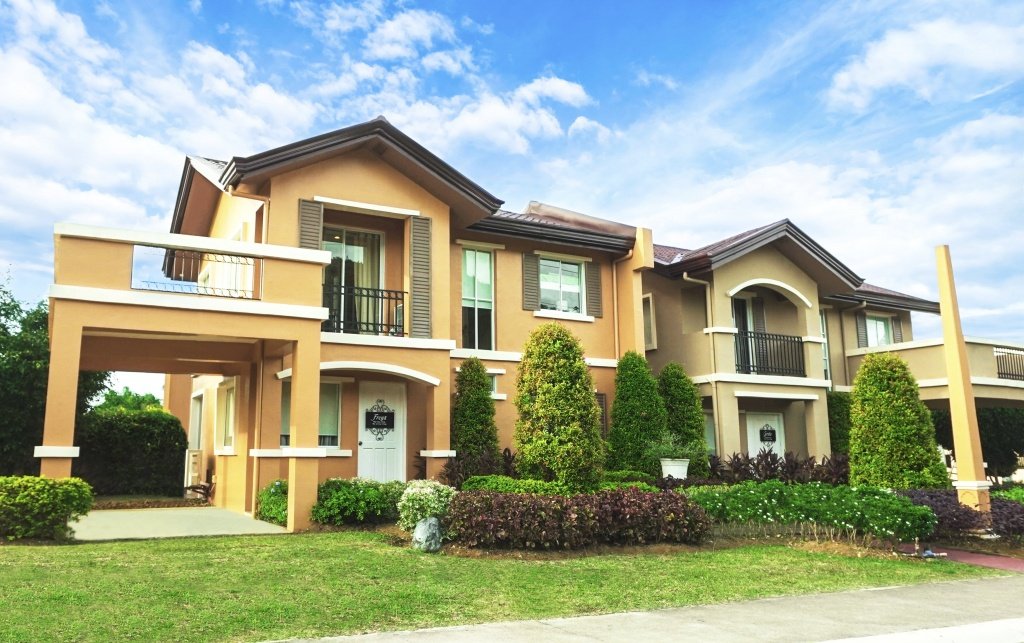 Check out our Houses for sale in Pampanga
Discover our house and lot for sale in Camella Pampanga
By Mirachelle Cajipe