Weaving is an essential aspect of Philippine culture and traditions. It is more than just a good act of sustaining the weavers' needs, but it is also a mark of Filipino culture and heritage. It is a form of artistic expression that showcases the sophisticated and intricate process of creating such artwork. As a Filipino, it is at least your duty to know about these local fabrics and promote them in today's setting.
So, to help promote, preserve, and protect these one-of-a-kind handcrafts, here are some of the best local fabrics known only in the Philippines:
How does the Philippine Weaving Start?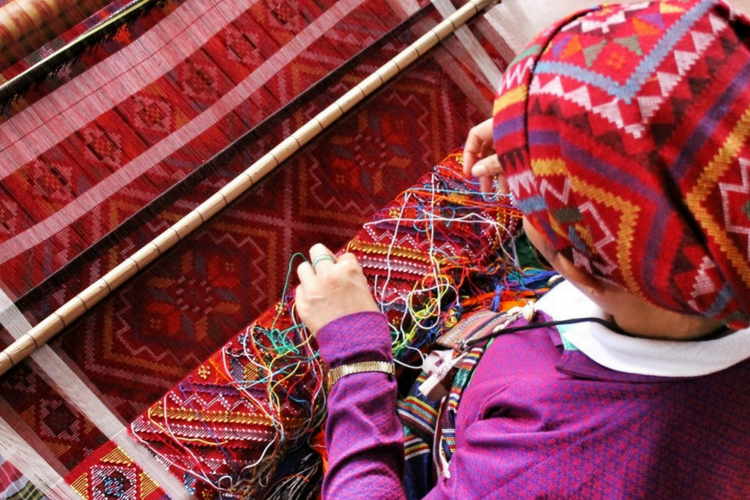 Before jumping into different kinds of local fabrics in the Philippines, you should know how they started. Fortunately, here's a short introduction of how it came to be. According to historical traces, a piece of weaving evidence was found in a cave dating back to 1255-605 BCE. Other records show it started during the 13th century – a long time ago, even before the Spanish conquistadors came to the Philippines.
It is believed that long before the Spanish colonization, traditional weaving already existed. Interestingly, natives are already using plant fibers such as abaca and piña. They use them as threads in creating something valuable, such as clothes and fishing baskets. Throughout the centuries, many people believed that natives were doing this to clothe themselves and connect to the spirits invisible to the naked eye.
It is common knowledge that Filipinos worships deities before the emergence of Christianity. So, there is no doubt that this act is rooted and associated with bridging into something supernatural. On some records, some believed that they could ask for protection and good health when weaving.
What are the Famous Fabrics in Luzon?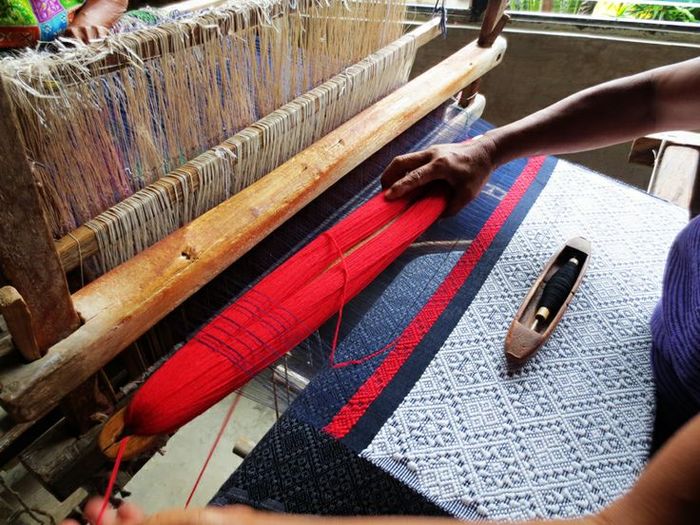 First on the list of well-crafted textiles in the country can be found in the northern part of the Philippines, most known as the Ilocos region. It produces "Inabel" or "Abel Iloko" fabric which refers to any material made purely within the cities of Ilocos. It is a very distinct type of fabric popular for its patterns, softness, and strength. Unlike the following fabrics discussed in this blog, the Abel Iloko is made from a more common material: cotton.
If you're wondering how the Abel Iloko cloth is produced, there is a tedious process. It is labor-intensive that requires several weaving techniques. Although there is already a presence of technology and machinery, Ilocano weavers stick to hardwood pedal looms, warp, and weft. For Ilocano weavers, the vertical yarn (warp or gan-ay) and the horizontal yarn (weft or pakan) are more accessible and more comfortable to use. In addition, they'd get to preserve the old way of weaving.
Stop by the famous and historical Vigan city when you find yourself traveling into the north. You can buy Inabel fabrics with stars, windows, and fans' designs and patterns there. There are also chances to find a cute cat's paw design imprinted into this hand-woven textile if you are a cat lover. You can choose from plenty of options, so don't worry if you think you might go home empty-handed.
A simple tip: look for Inabel fabric or cloth with a Binakul pattern as it is believed to ward off evil spirits effectively.
What are the Most Popular Fabrics in the Visayas?
Piña Cloth in Kalibo, Aklan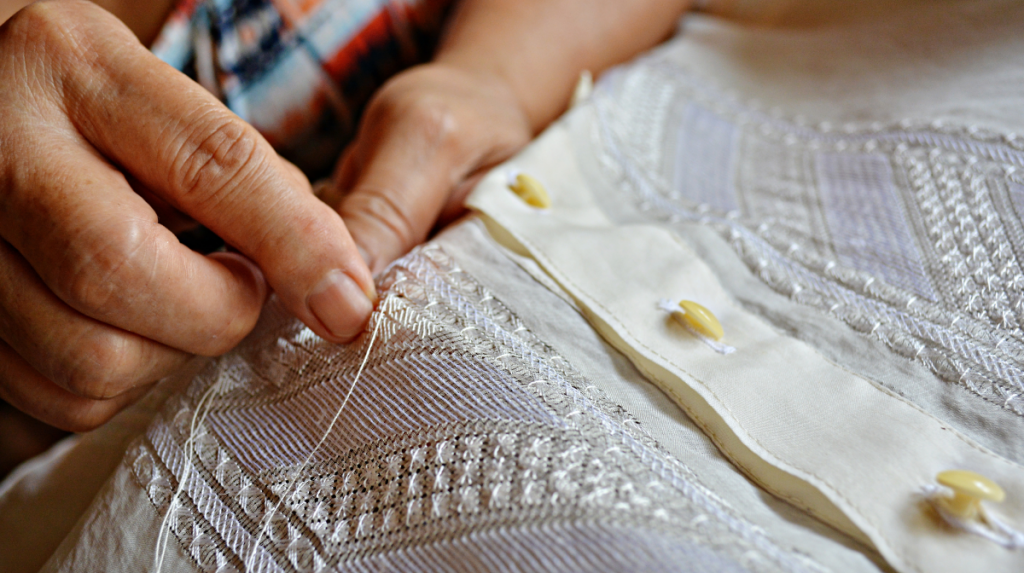 Bow your heads and welcome the "Queen of Philippine Textiles" – The Piña Fabric! It is the most common and most popular material used in creating national costumes, such as Filipina and Barong Tagalog. It is the aristocrat's favorite during the early 19th century because it has tensile strength and breathable quality.
For a bit of background about Piña fabric or Piña cloth, it is made from a mature leave of a pineapple plant. Not just a simple pineapple plant, but those that grew in the Visayan region called Spanish Red pineapple. Though there are a lot of pineapple trees in the country, it is better if the materials come locally. It takes about 18 months to fully mature, making it much faster than the abaca fabric. It is also biodegradable harvesting waste that can grow up to two meters in length. Each pineapple fruit usually has two to five leaves suitable for weaving.
You can find the most exquisite products and fabrics made from Piña fibers in the Western Visayas, particularly in Kalibo, Aklan. It is the leading manufacturer of pineapple and pineapple leaves (used to create Piña fibers), as it receives and experiences plenty of rainfall throughout the year. In addition, you can buy the most delicate wedding veils, Barong Tagalog, and hand-woven handkerchiefs in this city. Each craft is intricately thin and glossy – perfect for any occasion, event, or theme.
On the other note, the Piña fabric remains superior when speaking about contemporary times. It is still the country's most popular choice for haute couture and formal Philippine wear. It is receiving global fame and interest for being sustainable, eco-friendly, and free from chemical refinement. Thus, it is also more expensive than other local fabrics because it is labor-intensive and time-consuming.
Hablon Fabric in Iloilo Province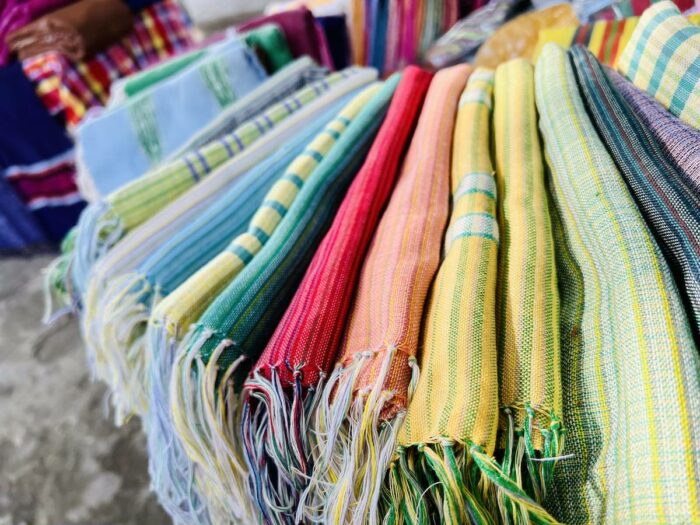 Now making an international wave is the colorful and hand-woven fabric of Miag-ao, Iloilo – the Hablon Fabric. It is now making noise globally because Filipino weavers are incorporating old age weaving styles into modern and contemporary designs. A well-renowned Filipino fashion designer, Rajo Laurel, is fond of using this hand-woven fabric for his international projects.
The Hablon fabric is primarily made out of "Just" fibers, which is a figurative offspring of abaca and Piña fibers. Still, eventually, weavers tried to use other materials such as cotton and polyester. Hence, it remains the essence of its name, "Hablon," which means "hand-weaving" in the Ilonggo dialect. Municipalities in Iloilo remained the most significant and outstanding manufacturers of Hablon fabric. The two towns of Miag-ao and Oton are on the rise in producing, selling, and exporting such delicate materials and pieces.
The production of Hablon in Iloilo is fully supported by its local government and officials. They are also convinced that this century-old weaving tradition and practice must continue. Currently, locals in Iloilo are still creating novelty items to boost their economy, tourism, and identity. Once you visit the province of Iloilo, you'll see plenty of Hablon products such as bags, bandanas, slippers, picture frames, and Patadyong skirts.
What is the Most Notable Fabric in Mindanao?
Abaca Fabric in Southern Mindanao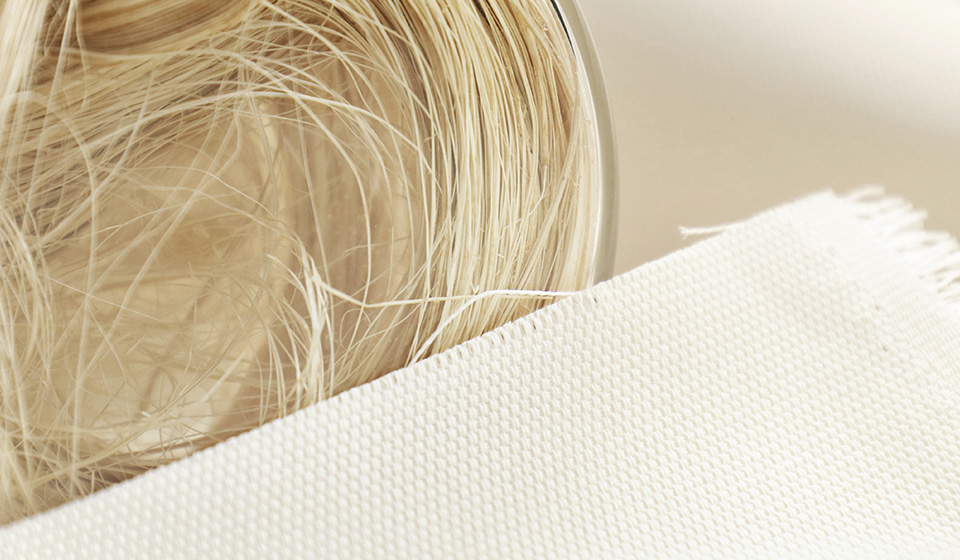 Usually, clothes worn by Philippine ancestors come from hemp materials, and solid proof of it is the presence of the abaca plant. It is a banana leaf species with a green, fat, and flat appearance. Since it doesn't produce or bear fruits, it compromises its leaves by creating one of the most muscular fibers ever used in clothes. It is also known to be the most eco-friendly fabric best used in different forms of clothes as it requires little to no amount of water and electricity at all.
In terms of harvesting the abaca plant for clothing production, specific rules need to be followed. First, the trees that a harvester will cut should have a trunk of at least 14 to 18 inches in diameter of a circle. Those who don't pass or succeed the required inches shall be left alone. They must remain in their roots so that the quality of the fiber is strong enough to produce some clothes. An abaca plant grows at an estimated two to three years before reaching such needed size. It takes some time to grow plants. They must leave a few inches before officially cutting the plant. This process will help the abaca to regrow instead of planting a new one.
For the actual crafting of abaca fibers, it is known to be widely used in different parts of the country. Hence, none can surpass how the T'boli tribe can make artistic, unique, and well-crafted abaca pieces. The T'boli tribe in Southern Mindanao is so good at their craft that their hand-woven "Nalak" cannot be copied by anyone else in the country. Only the masters in weaving can do this, so there's no wonder it is one of a kind in the world.
On the other hand, others practicing traditional weaving inside the T'boli tribe create tubular skirts for men and patterned garments for women. They also make bags, slippers, accessories, and native clothing – an epitome of how fashion can still be eco-friendly. The members of the tribe either used the products in their day-to-day lives or sold them to tourists for profitable income. Either way, these crafts bear an artistic sense while helping to minimize harmful materials' use.
What is the Significance of Philippine Weaving today?
Weaving plays a massive role in promoting the identity, culture, and arts of the Philippines. It showcases how a collection of tiny fibers can turn into traditional and revolutionary clothes. Aside from that, it also reflects the beliefs that every tribe and region that the Philippines has. Through weaving, indigenous people can artistically express themselves.
The use of different patterns and colors represents their desire and affection. Some even incorporated the design through their sacred rituals. Figures of death, war, healing, mourning, and harvest are so intricate that you'd think your part of something valuable and good.
In today's time, all hopes that this traditional process lives on. It is a reflective and unifying factor that binds culture and communities. Hopefully, everyone realizes how each member of society is like a thread capable of creating something great if combined and united.
Weave Dreams with Camella in General Santos City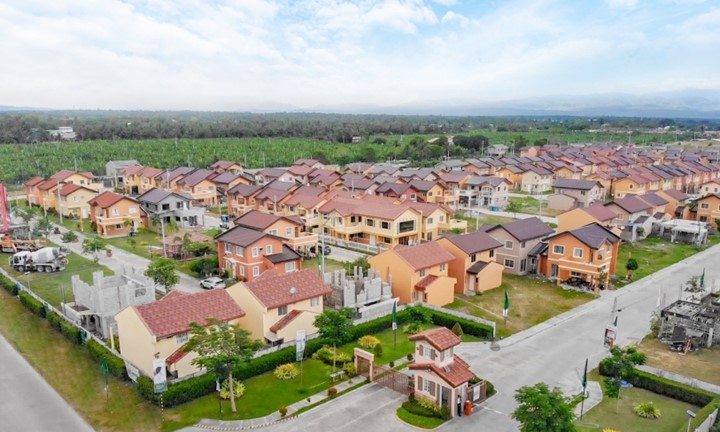 Philippine weaving proves how thin strands of threads can turn into something spectacular such as hats and clothes. It shows beyond doubt that with enough dedication and perseverance, you can make something valuable out of small materials. All you need is a couple of tools and effort to start, and then you are one step away from achieving what you truly desire.
It is the same thing when it comes to weaving dreams. You need enthusiasm, commitment, and persistence to attain the desires of your heart. It would be best if you also had the essential tools and necessities to help you jump into new opportunities without hesitation and uncertainty. Above all, you need a home that can give you a high-quality life.
Good thing that there is a trusted home builder in the Philippines offers property for sale at a very reasonable price. Its house models can cater to different family tastes and sizes. By owning any of its house and lot unit for purchase nationwide, you can also access its resort-themed amenities such as a swimming pool, basketball courts, verdant landscapes, playground, and clubhouse. Its security is impeccable, too! Gated entrances and exits, 24/7 roving professional guards, and CCTVs installed throughout the compound. What more can you look for, right?
Well, the truth is, there is more to expect than its distinct house models, resort-themed amenities, and well-maintained security. When you explore the master-planned communities of Camella in General Santos City, you will be amazed at what you can enjoy and gain from living in such a premium community. After all, it is a house and lot development in Gensan City nestled between the fast-paced yet tranquil suburban district.
There's no second-guessing if you can achieve your dreams when you reside in self-sustained communities of Camella Gensan, Camella Cerritos Gensan and the upcoming Camella Trails Gensan.
What are you waiting for? Weave dreams with Camella in General Santos City now.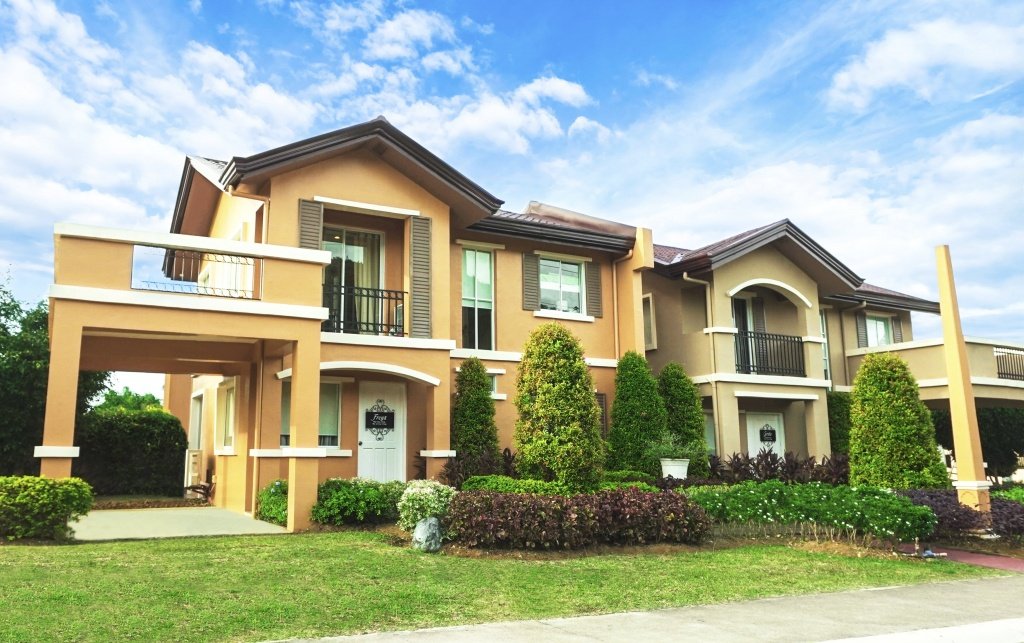 Check out our Houses for sale in GenSan City
Discover our house and lot for sale in General Santos City