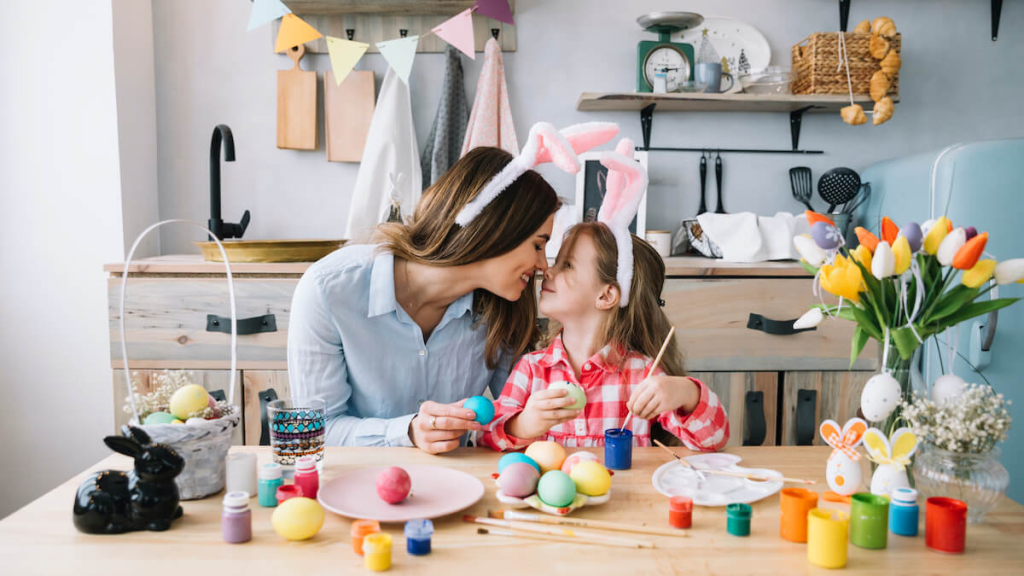 Easter Sunday is the culmination of the Holy Week, which starts on Palm Sunday and ends on Holy Saturday. It is a significant celebration for Christian churches worldwide, commemorating the resurrection of Jesus Christ from the dead. The date of Easter varies each year and is determined by the first Sunday following the first full moon on or after the vernal equinox. This calculation follows both the Gregorian calendar and Julian calendars, which are used by different Christian denominations. Regardless of the calendar used, Easter Sunday is a time for Christians to come together in celebration and reflection, as they remember the sacrifice and triumph of Jesus Christ. It marks the resurrection of Jesus Christ and is a time for reflection, renewal, and hope. It's also a time for families to come together and create new traditions and memories.
Whether you're hosting a family gathering or looking for fun ways to keep the kids entertained, there are plenty of Easter-themed activities to enjoy. In this article, we'll share 10 fun and creative Easter Sunday activities that are sure to bring joy to everyone.
1. Easter Egg Hunt
The first activity on our list is the Easter egg hunt. No Easter Sunday celebration is complete without an egg hunt. This is a classic Easter activity that is loved by kids and adults alike. You can hide colorful plastic eggs throughout your yard or home and let the kids search for them. To make the hunt more challenging, you can create clues or riddles that lead to the location of the eggs. You can also hide other treats, like small toys or candies, to make the hunt even more exciting. You can also reward the participant with the most number of Easter eggs collected.
2. Easter Crafts
Another fun Easter activity is to create Easter-themed crafts. You can make Easter baskets, easter bunny, decorate eggs, or create Easter-themed artwork. There are countless ideas and tutorials available online that you can use to get started. You can even create a craft station at your Easter gathering and have everyone work on their own projects. Pinterest has plenty of ideas and tutorials to get you started.
3. Easter Brunch
No Easter celebration is complete without a delicious meal. Hosting an Easter brunch is a great way to bring your family closer and enjoy some delicious food together. You can make traditional Easter dishes like ham or lamb, or you can put a twist on classic brunch dishes like pancakes or omelets. Don't forget to include Easter-themed treats like carrot cake or hot cross buns.
4. Easter Movie Marathon
If you're looking for a more relaxing Easter activity, consider hosting an Easter movie marathon. Choose family-friendly films like "Hop," "Peter Rabbit," or "It's the Easter Beagle, Charlie Brown!" You can even set up a cozy area with blankets and pillows for everyone to snuggle up and enjoy the movies. Don't forget the treats!
5. Easter Baking
Baking Easter-themed treats is another fun activity that the whole family can enjoy and participate in. You can bake cupcakes or sugar cookies and decorate them with pastel colors and Easter-themed designs. You can also try making more complicated treats like Easter cakes or Easter breads.
6. Grow Plants in your Garden
Easter morning is a great time to gather outside and start gardening. You can plant colorful flowers, herbs, or even vegetables. This is a fun activity that kids will love, and it's a great way to teach them about nature and the environment.
7. Easter Scavenger Hunt
If you're looking for a more interactive Easter activity, consider creating an Easter scavenger hunt. You can create clues that lead to Easter-themed items like eggs, bunnies, or chicks. The final clue can lead to a surprise Easter basket or treat.
8. Easter Piñata
A piñata is always a hit with kids, and an Easter-themed piñata is a great addition to any Easter celebration. You can fill the piñata with candy and small toys for the kids to enjoy.
9. Easter Photoshoot
Capture memories with an Easter-themed photoshoot. Dress up in pastel colors and take photos with Easter props like bunny ears or eggs. This is an engaging activity that everyone can join in, and you'll have great photos to remember the day.
10. Easter Service
Attending an Easter church service or participating in a virtual one from the comforts of your home is a great way to reflect on the true meaning of Easter. It is also a meaningful time to spend with your loved ones.
There are countless ways to celebrate Easter Sunday with your family. From egg hunts to Easter-themed crafts and baking, there's something for everyone to enjoy. Use these 10 fun and creative ideas to make this Easter Sunday a memorable one.
Camella Easter FunDay 2023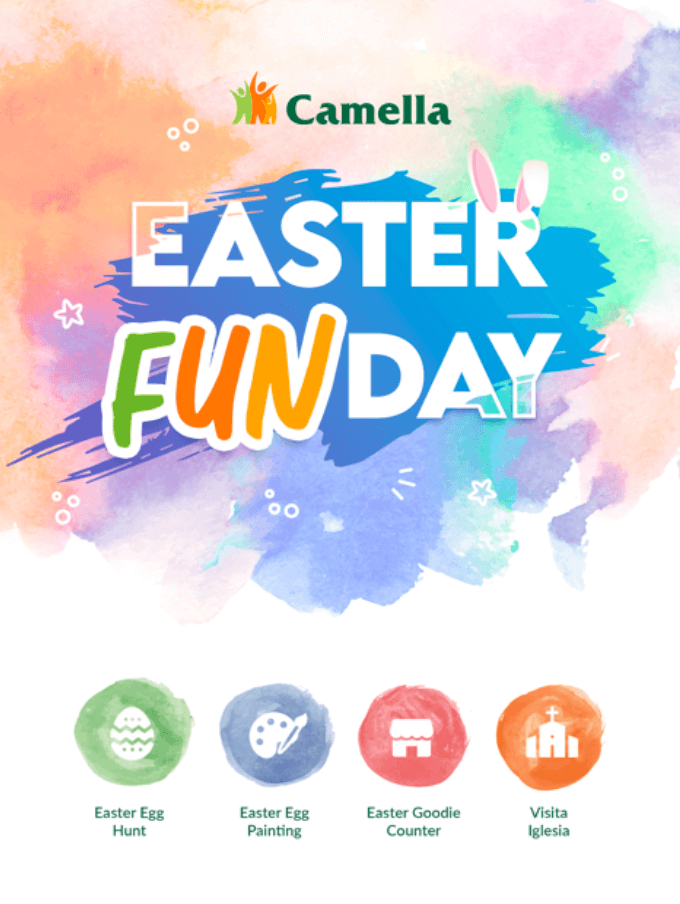 If you're a homeowner in a Camella community, you're in luck this Easter Sunday! Camella is hosting an Easter Funday, featuring fun activities for kids and kids-at-heart.
The activities include an Easter Egg Hunt, where the one who finds the special "Easter Egg with Camella Logo" wins a special prize. For those who want to spend the day being creative, there's an Easter Egg Painting activity. Some of you may want to indulge in a little bit of shopping — so we are setting up Easter Goodie booths that sell goodies and other curio stuff on Easter Sunday.
For homeowners and guests who are commemorating Lent through "Visita Iglesia", a number of Camella projects have churches inside their communities that have been considered as stops for visitation during Easter.
The Gran Europa is a 200-hectare master-planned development in Barangay Lumbia, Cagayan de Oro City. One of the property's special features is the San Vicente Ferrer Church, right at the beating heart of Gran Europa. In Savannah, Iloilo City is the St. Pio Church, while Maia Alta, nestled in the elevated part of Antipolo that overlooks the rest of Rizal, has a community chapel right within the property that homeowners and guests often visit.
Overall, Camella's Easter Funday is a great opportunity for homeowners, sales agents, networks, Camella employees, partners, and service providers to come together and celebrate Easter Sunday as a family or community event. With activities that cater to all ages, Camella's Easter Funday promises to be a day of positivity.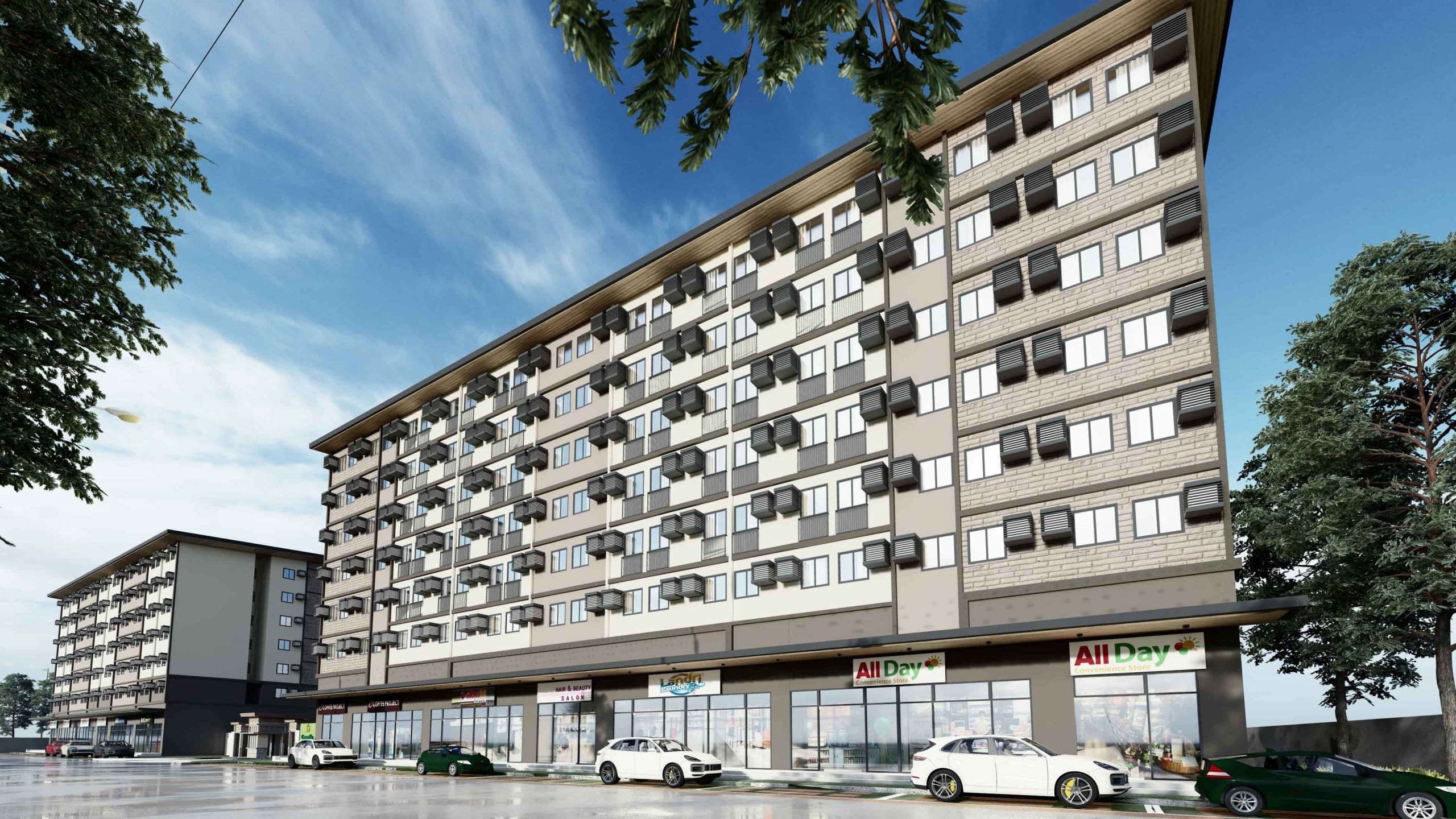 Check out our Condo for Sale Properties
Discover our condo for sale properties in the Philippines