Apart from being home to the majestic Mt. Mayon, Bicol is also known for its famous dishes and delicacies, often characterized by its signature spicy twist. We checked five of the best Bicolano words for your next trip down South in the list below. Make your adventure more memorable by trying these Bicolano bestsellers.
Bicol Express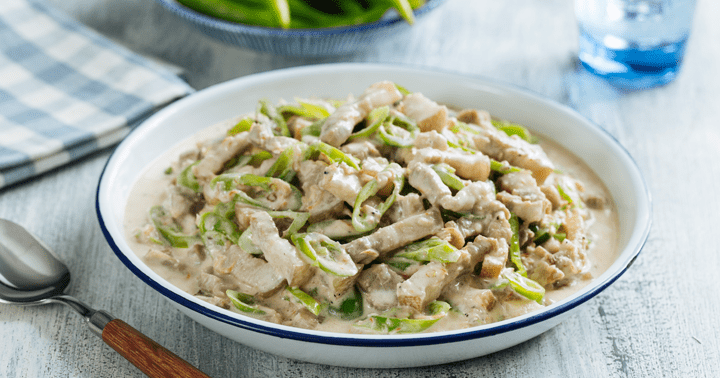 What is a trip to Bicol without tasting the authentic Bicol Express? This dish made up of pork, chili, and other ingredients with coconut milk is a staple in many Filipino celebrations because of its distinct and flavorful spicy kick. You'll find this in almost all restaurants or eateries in Bicol.
Laing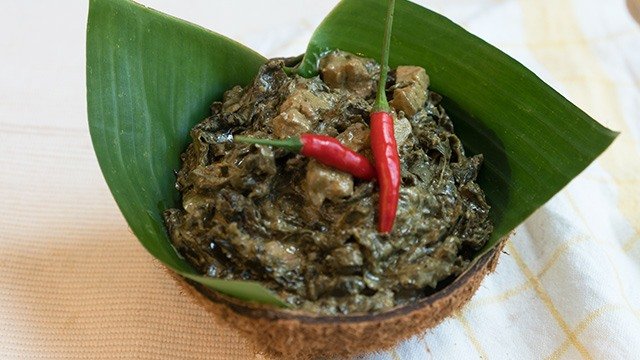 Laing is another Bicolano bestseller that you shouldn't miss. The original Laing uses shredded gabi (taro leaves), chili, coconut milk, shrimp paste, and pork/ chicken. There are other variations of Laing, including a pizza laing that is worth a try.  
Kinunot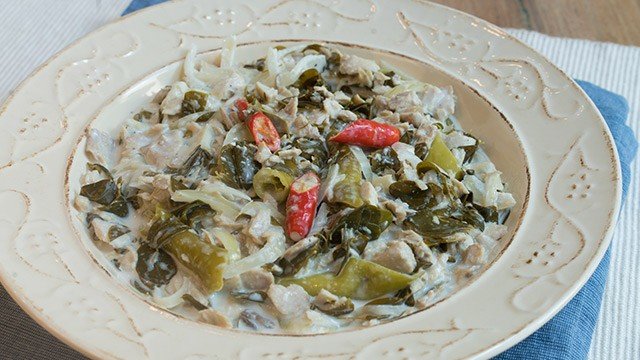 Another dish made with the goodness of coconut milk is Kinunot, which means "to tear apart" in the local language. It uses a stingray or any fish flaked mixed with malunggay leaves, chili, and coconut cream. The dish is typically an appetizer but could also pass as a main dish. Other versions use tilapia since manta rays have become prohibited from eating.
Nilupak
Moving onto snacks and desserts, Nilupak is a Bicolano favorite composed of squashed camote or banana added with sugar, milk, or grated coconut. Some prefer to add margarine or cheese or nuts on top.
Sili Ice cream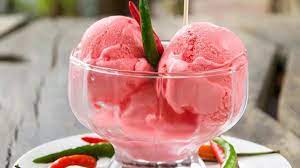 Want to try a highly exotic flavored ice cream? Try the Sili Ice Cream in Bicol. Both spicy and sweet, this crowd favorite often comes in pink with chili on top. You will be surprised how the two flavors of spicy and creamy blend well together. You can choose the level of spiciness of your ice cream based on your tolerance. In Bicol loads, you'll find loads of other native flavors such as pili, Tinutong Na Bigas, Carmelado, Malunggay, and Cacao ice cream.
Irresistibly Delicious foods in Bicol
These are just five of the many Bicolano dishes you should try when you come and visit the Bicol region. A tremendous gastronomic adventure awaits you since food is a big part of their culture. Enjoy dishes made up of coconut cream and chili peppers, two staple ingredients in many Bicolano cuisines.
With its great food and friendly people, Bicol is one of the top tourism destinations in the country. Investments are also growing because of their excellent business climate and robust economy. If you're looking for a place to settle and invest, find more reasons below why Naga, the "Queen City of Bicol," is a top real estate destination.  
Coming home to Naga
Fondly called the "Heart of Bicol," Naga is a highly progressive first-class city in the province of Camarines Sur. It is the center of trade, business, religious, cultural, industrial, commercial, medical, educational, and finance of the Bicol region.
Due to its historical significance, Naga is regarded as a "Pilgrimage City" where thousands of tourists flock to see the shrine of Our Lady of Peñafrancia, considered to be one of the biggest Marian devotions in Asia. Historically, Naga is the third oldest royal city in the Philippines.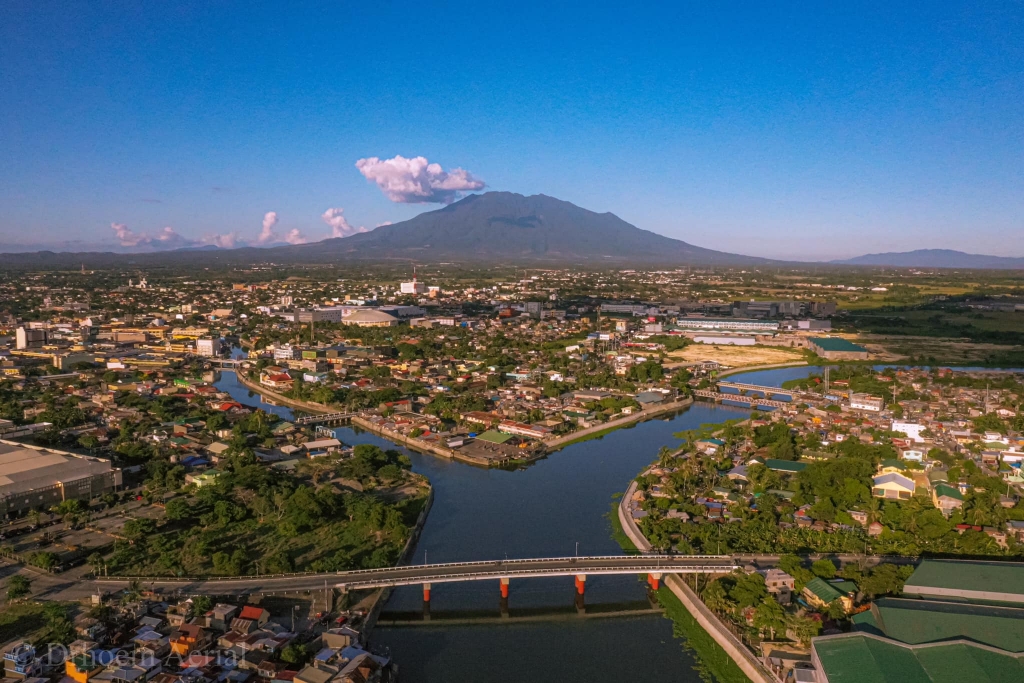 Naga is deemed the most awarded LGU, having been recognized multiple times by international and local organizations for being a model local government unit. The UK Financial Times Group also chose it as the "Most Cost-Effective City in Asia." It has been elevated into the "Most Business-Friendly City" Hall of Fame.  
Naga City sits right in the center with its strategic location, where most of Bicol's business establishments are located. Many investors favor the city to be the center of their regional operations in this part of South Luzon.
The real estate industry is also established as Naga continues to develop as a bustling investment and tourism hub. Living here offers residents the best of urban living with many opportunities awaiting.
Camella Naga: Your home in the heart of Bicol
If you're looking for a trusted home builder in Naga, find high-quality yet affordable homes in Camella Naga. This premium development in Camarines Sur prides itself on being a world-class and flood-free community. Experience the fullness of life in the city regarded as the "Most cost-effective" in Asia, Naga.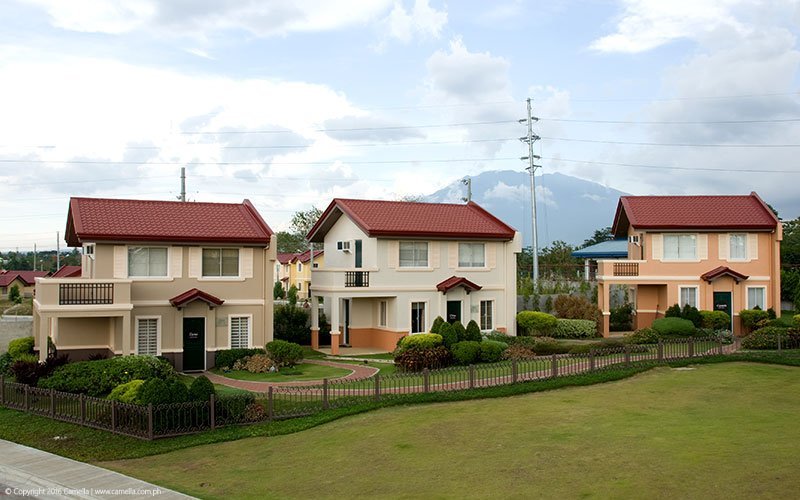 Camella Naga is an Italian-Mediterranean-themed house and lot in Camarines Sur, complete with an impressive set of amenities: a clubhouse, basketball court, playground, swimming pool, jogging trail, biking path, and a gated entrance. This property for sale in Naga is a popular choice among starting families, Overseas Filipino Workers (OFWs), young professionals, retirees, and other individuals because of its relaxing and safe environment.
Located in Del Rosario: Cararayan Rd, Naga, this house and lot in CamSur are located near essential establishments like business centers, shopping malls, schools, hospitals, churches, tourist destinations, and major transportation routes. One of its selling points is its panoramic view of the beautiful Mount Isarog. Found along the Pan-Philippine Highway, tourist spots like the Camsur Watersports Complex (CWC) and significant infrastructure like the Naga Airport and other commercial outlets are highly accessible. Academic institutions like Ateneo de Naga and Bicol State College are also nearby.
Your Next Lovely Home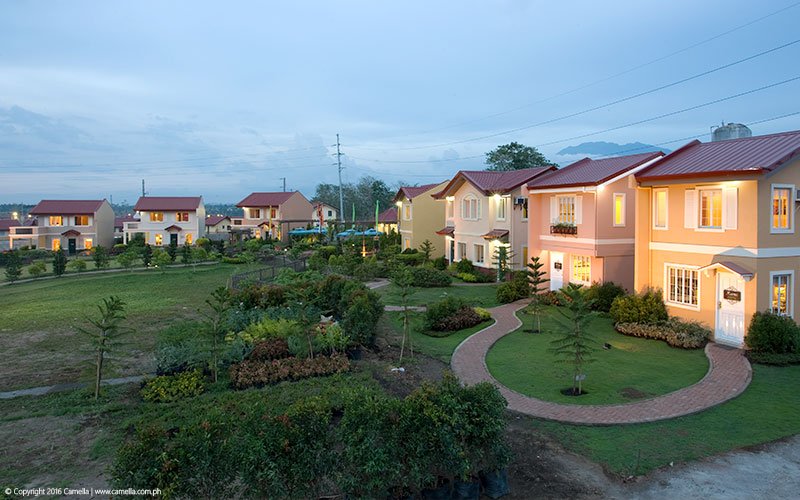 You can choose a design based on their selection of house models of Bella, Cara, Dani, Ella, Freya, and Greta. The house and lot for sale in Naga have two storeys, two to five bedrooms (depending on model), toilets and baths, a large living room, kitchen, dining room, and a carport. It is also safely equipped with systematic round-the-clock security and roving guards to keep you and your family safe.
Enjoy the perks of living in the heart of Naga. Camella Naga gives you the ultimate convenience and comfort for a well-balanced and holistic lifestyle.
Ready for occupancy units is now available. Visit the official website of Camella Naga or their official social media sites to get more details.